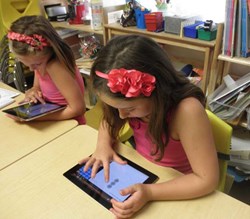 (PRWEB) October 11, 2013
The "Tabtor" math tablet application were featured on NewsWatch as part of its popular segment, AppWatch, that takes a look at the latest and coolest mobile applications and services on the iOS and Android market. Andrew Tropeano, host of AppWatch, conducted the app reviews and shared with viewers how the application can help raise the English and Math skill levels of children across the country.
In the past year, 46 states across the U.S. have adopted the Common Core standards, a set of guidelines designed to teach students consistent skills in core subjects. Unfortunately, the implementation of these standards has been difficult. A recent assessment this past August showed that not even one-third of the students in grades 3-8 met or exceeded the standards for math or English (source). This shortfall has led many parents to seek out additional resources to help strengthen their children's basic skills.
Tabtor is a software meant for kids in grades Kindergarten through 6th grade. Each child gets a personal and certified instructor who assigns worksheets and problems for students to solve. As the student completes the worksheets on their iPad, the instructor is able to see the process used to complete the problem and offer feedback to the student and parents within a 24-hour period. And being able to watch how a student completed a problem gives instructors insight into the child's point of learning - basically where they begin to struggle, making it easily correctible. The app starts with the basics and works its way up towards more complex problems – such as algebra and money management. As children complete the worksheets, they are rewarded with points that can be converted into gift cards at places like Amazon, iTunes, Fandango, and Target.
To learn more about Tabtor, head to http://www.tabtor.com today.
NewsWatch is a weekly 30-minute consumer oriented television show that airs monthly on the History Channel and weekly on the ION Network. NewsWatch regularly features top technology products, unique and beautiful travel destinations, health tips, medical breakthroughs, and entertainment news on the show. A recent addition to NewsWatch, AppWatch is a weekly segment that provides viewers app reviews and game reviews of the latest and hottest apps and games out on the market for iOS and Android devices.
The show airs in 180 markets nationwide as well as all of the top 20 broadcast markets in the country, and is the preferred choice for Satellite Media Tour and Video News Release Distribution.
For more information or to watch the latest app reviews featured on the show, head to http://www.NewsWatchTV.com/appwatch.html.