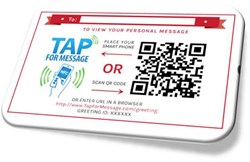 Tap For Message is the first of its kind to use NFC technology in the Greetings and Invitations space. It now allows anyone to be more personal and creative with their greeting or invite by attaching a video.
Washington, DC (PRWEB) August 31, 2013
TapForMessage was featured on NewsWatch as part of its popular AppWatch segment, that offers mobile app reviews of the latest and coolest apps available on the market. Andrew Tropeano, host of the segment, shared with viewers how TapForMessage can allow users to send personalized video greetings with their packages and presents.
Near field communication, known as NFC, is the future of wireless technology. There are a number of unique NFC enabled products out there, including TapForMessage. TapForMessage is a personalized video greeting service that allows users to record a greeting to an NFC enabled chip that is placed on a package or greeting. The recipient can view the video greeting by tapping their phone to the card containing the chip. While recording the greeting, users can choose themes from nearly every occasion, including Happy Birthday or Merry Christmas.
The company created multiple sticker formats, including a sticker for flat surfaces and a hang tag card for items like flower bouquets or baskets. TapForMessage also comes in different materials, including paper, plastic, and epoxy. In addition to the NFC chip inside, users can access the video via a QR code or URL, thus making it work with all smartphones, tablets, and browser based devices. You don't need to install or download any app.
To try out one today, head to http://www.tapformessage.com.
NewsWatch is a weekly 30-minute consumer oriented television show that airs monthly on the History Channel and weekly on the ION Network. NewsWatch regularly features top technology products, unique and beautiful travel destinations, health tips, medical breakthroughs, and entertainment news on the show. A recent addition to NewsWatch, AppWatch is a weekly segment that provides viewers app reviews and game reviews of the latest and hottest apps and games out on the market for iOS and Android devices.
The show airs in 180 markets nationwide as well as all of the top 20 broadcast markets in the country, and is the preferred choice for Satellite Media Tour and Video News Release Distribution.
For more information or to watch the latest segments featured on the show, head to http://www.NewsWatchTV.com/appwatch.html.