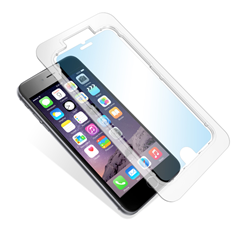 Washington, DC (PRWEB) October 14, 2014
"Simple Snap" was featured on NewsWatch as part of its monthly Tech Report, which features the latest and coolest technology products and services available to consumers. Mallory Sofastaii, a technology expert and reporter for NewsWatch, conducted the product review and shared with viewers how it's an advanced, easy-to-install screen protector.
According to Pew Research, 1 in 4 smartphones crack within 18 months. Screen protectors keep phones safe, but they're a pain to install – air bubbles, dust, and mis-alignment issues always occur. ReVamp Electronics, a parts distribution company based in Chicago, has designed an advanced, easy-to-install screen protector to solve the installation headache.
To install, first clean the phone screen with the included alcohol wipe and cloth, then use the clean-paster to eliminate any remaining dust. Simply peel off the bottom film and align the application mold that fits seamlessly around the phone and push down until it snaps. Press out any remaining bubbles to finish.
ReVamp has created two different variations, the HD Anti-Fingerprint and Tempered Glass. The anti-fingerprint version will resist scratches and fingerprints while the tempered glass version is a 9H on the hardness scale and will make a phone's screen shatterproof.
They're available for the latest iPhone and Samsung Galaxy models, as well as the iPad Mini and iPad Air. They're also planning on releasing Amazon and LG versions soon too.
To learn more or to purchase a Simple Snap screen protector, visit http://www.SimpleSnap.com.
About NewsWatch
NewsWatch is a weekly 30-minute consumer oriented television show that airs on the History Channel, FYI Network, and ION Network. NewsWatch regularly features top technology products and services, mobile applications for iOS, Android, and Windows devices, unique and beautiful travel destinations around the world, health and medical tips, and entertainment interviews on the show. NewsWatch airs on the History Channel at 6:00 – 6:30 AM ET/PT and on the FYI Network from 7:00 – 7:30 AM ET.
NewsWatch is located in the greater Washington, DC area and has been on air for over 25 years. For more information or to watch the most recent episode, visit http://newswatchtv.com/tech-report.html.