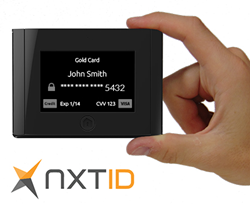 Washington, DC (PRWEB) September 12, 2014
The "Wocket" was featured on NewsWatch as part of its monthly Tech Report, which reviews and features the latest technology gadgets and services available to consumers. Mallory Sofastaii, a host of NewsWatch and technology expert, conducted the review and shared with viewers how it's a secure and easy to use digital smart wallet.
The Wocket smart wallet lets users input all their cards into one digital device. Whenever a user need a card, they select it on the touch screen, then pull the WocketCard out and swipe like a normal card.
It's also secure. All the data is stored on the device and can only be unlocked with the users voice or a pin, so users don't have to worry about their info getting used or stolen when they lose their wallet. The Wocket also doesn't display the card info when it's used either, so no one can jump online and order thousands of dollars of merchandise.
The device has a very strong battery life. With regular usage, the wocket will last up to a year before needing to be recharged. It's convenient, secure, and incredibly easy to use. It's a physical wallet so consumers can carry cash as well.
To learn more about it and replace your wallet with something that's going to change the way consumers make payments, visit http://www.wocketwallet.com.
About NewsWatch
NewsWatch is a weekly 30-minute consumer oriented television show that airs on the History Channel, FYI Network, and ION Network. NewsWatch regularly features top technology products and services, mobile applications for iOS, Android, and Windows devices, unique and beautiful travel destinations around the world, health and medical tips, and entertainment interviews on the show. NewsWatch airs on the History Channel at 6:00 – 6:30 AM ET/PT and on the FYI Network from 7:00 – 7:30 AM ET.
NewsWatch is located in the greater Washington, DC area and has been on air for over 25 years. For more information or to watch the most recent episode, visit http://newswatchtv.com.