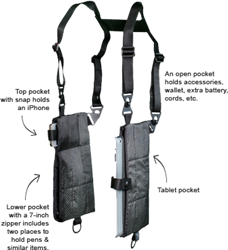 Washington, DC (PRWEB) March 27, 2014
The "Tech Slinger" mobile device holster was featured on NewsWatch as part of its 2014 Consumer Electronic Show Wrap Up, which took a look at the latest and coolest technology showcased at the trade show. Scott Steinberg, a guest host of NewsWatch and technology expert, conducted the product review and shared with viewers how the holster can hold a phone, a tablet, and accessories under clothing and in easy reach.
According to Pew Research, over one third of citizens of the United States owns a tablet and nearly two thirds own a smartphone. As those numbers continue to climb, consumers are becoming more dependent on mobile devices for everyday life. Unfortunately the modern American wants access to their tech but also cares about their image.
Tech Slinger, a unique exhibitor at the 2014 Consumer Electronics Show in Las Vegas, Nevada, makes both a phone and tablet accessible under a users clothing and in easy reach without changing their appearance. It's made of high quality material and webbing to remove potential hot spots and keep a balanced load. What's most unique about the Tech Slinger is it keeps the devices close to the consumers body and doesn't alter their silhouette.
The holster has three pockets available. One for holding a tablet, another for a phone, and a third for accessories. Each pocket has a simple snap to hold the pieces in place but also to make it easily accessible.
The Tech Slinger comes in five different designs and five different colors, and ranges in price $64.00 to $69.00.
To learn more, visit http://www.techslinger.com.
About NewsWatch
NewsWatch is a weekly 30-minute consumer oriented television show that airs monthly on the History Channel and weekly on the ION Network. NewsWatch regularly features top technology products, unique and beautiful travel destinations, health tips, medical breakthroughs, and entertainment news on the show. A recent addition to NewsWatch, AppWatch is a weekly segment that provides viewers app reviews and game reviews of the latest and hottest apps and games out on the market for iOS and Android devices.
The show airs in 180 markets nationwide as well as all of the top 20 broadcast markets in the country, and is the preferred choice for Satellite Media Tour and Video News Release Distribution.
For more information or to catch all the products reviewed at the 2014 Consumer Electronics Show, visit http://newswatchtv.com/ces-2014.html.