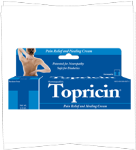 Washington, DC (PRWEB) March 01, 2014
"Topricin", a pain relief cream, was featured on NewsWatch as part of its popular segment, HealthWatch, which took a look at the latest medical products and services available to consumers. Susan Bridges, the host of NewsWatch and a medical expert, conducted the product review and shared with viewers how it helps alleviate pain without side effects.
Whether it's chronic pain, arthritis, or even an injury that just won't heal, dealing with pain can be unbearable. For the millions of Americans that suffer from pain, there are quite a few products on the market to help ease the suffering.
For consumers worried about the side effects of pain pills, consider a therapy cream that heals and relieves the pain. The NewsWatch recommendation is Topricin, a cream that doctors, pharmacists, and pain specialists are recommending to thousands of people around the world.
Topricin was developed by Lou Paradise to cure his pain and eliminate pain pills and their side effects. The cream doesn't burn, smell, or stain. A combination of eleven biomedicines, Topricin is used by professional athletes because of its healing properties and pain relieving abilities.
For the millions of Americans dealing with some form of pain, give Topricin a try. It can be found in the diabetic section of Walgreens or the foot section of CVS, or just by going into a local Whole Foods.
To learn more about Topricin, visit http://www.topricin.com.
About NewsWatch
NewsWatch is a weekly 30-minute consumer oriented television show that airs monthly on the History Channel and weekly on the ION Network. NewsWatch regularly features top technology products, unique and beautiful travel destinations, health tips, medical breakthroughs, and entertainment news on the show. A recent addition to NewsWatch, AppWatch is a weekly segment that provides viewers app reviews and game reviews of the latest and hottest apps and games out on the market for iOS and Android devices.
The show airs in 180 markets nationwide as well as all of the top 20 broadcast markets in the country, and is the preferred choice for Satellite Media Tour and Video News Release Distribution.
For more information or to see other product and service reviews by NewsWatch, visit http://www.newswatchtv.com.