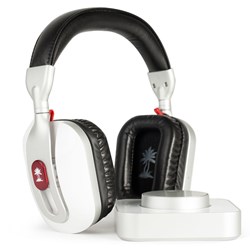 The i30 Wireless Headphones have the type of sound quality you can expect from Turtle Beach with great bass and depth of sound!
Washington, DC (PRWEB) January 03, 2014
Turtle Beach's "i30 Wireless Headphones", were featured on NewsWatch as part of its popular segment, Tech Report, that takes a look at the latest and coolest technology products and services on the market available to consumers. Andrew Tropeano conducted the tech review and shared with viewers how the headphones are completely wireless and connect over Bluetooth to nearly any compatible device.
Nearly everyone in the country has a need for headphones, whether it's listening to streaming music, playing a game or watching a movie on your tablet, or talking on a smartphone. For users ready to join the wireless headphone world, NewsWatch reviewed Turtle Beach's new i30 wireless headphones.
The i30 Wireless Headphones are completely wireless and connect over Bluetooth to nearly any compatible device, from phones to tablets to televisions. With high end audio quality, the ear cups are made of comfortable memory foam which isolate and cancel out noise. They have two built-in, hidden microphones that let users take calls and chat. There are buttons that allow you to adjust the volume, answer or hang up the phone, switch or pause songs, etc. One very unique feature is the lay flat capability for resting the headphones.
The i30 Wireless Headphones have a battery life of over 10 hours. They are rechargeable and can also be used while charging. They currently come in white and can be purchased for $299 at any Apple Store or GameStop, but consumers can also visit http://www.earforceiseries.com to learn more.
About NewsWatch
NewsWatch is a weekly 30-minute consumer oriented television show that airs monthly on the History Channel and weekly on the ION Network. NewsWatch regularly features top technology products, unique and beautiful travel destinations, health tips, medical breakthroughs, and entertainment news on the show. A recent addition to NewsWatch, Tech Report is a weekly segment that provides viewers technology reviews of the latest and hottest products and services out on the market for consumers.
The show airs in 180 markets nationwide as well as all of the top 20 broadcast markets in the country, and is the preferred choice for Satellite Media Tour and Video News Release Distribution.
For more information or to watch the latest app reviews featured on the show, head to http://www.NewsWatchTV.com/tech-report.html.