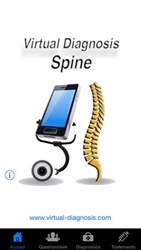 Washington, DC (PRWEB) April 01, 2014
"Virtual Diagnosis," a medical diagnosis application, was featured on NewsWatch as part of its 2014 Consumer Electronic Show Wrap Up, which took a look at the latest and coolest technology showcased at the trade show. Scott Steinberg, a guest host of NewsWatch and technology expert, conducted the app review and shared with viewers how it helps consumers understand a diagnosis or qualify a previous opinion.
With millions of apps on the market, it's hard to know what's legitimate and what's not. That couldn't be more true than in the medical field. Virtual Diagnosis, an application showcased at the 2014 Consumer Electronics Show, was created by qualified spinal surgeons to help patients understand a diagnosis or qualify a previous opinion.
Using artificial intelligence, the app asks specific questions to the patient, then uses those answers to create a medical report with the most likely diagnosis and treatment options, along with a detailed explanation. Virtual Diagnosis also explains the meaning of symptoms, allows a consumer to perform clinical tests on themselves, and helps recognize radiological signs. The app does not replace a doctor, especially because it was created by one, but it follows the concept of shared diagnosis.
Virtual Diagnosis is available for iOS devices for $0.99 and can be downloaded by searching Virtual Diagnosis in the app store or by heading to http://virtual-diagnosis.com/spine/en/ today.
About NewsWatch
NewsWatch is a weekly 30-minute consumer-oriented television show that airs monthly on the History Channel and Biography Channel, and weekly on the ION Network. NewsWatch regularly features top technology products, unique and beautiful travel destinations, health tips, medical breakthroughs, and entertainment news on the show. A recent addition to NewsWatch, AppWatch is a weekly segment that provides viewers app reviews and game reviews of the latest and hottest apps and games out on the market for iOS and Android devices.
The show airs in 180 markets nationwide as well as all of the top 20 broadcast markets in the country, and is the preferred choice for Satellite Media Tour and Video News Release Distribution.
For more information or to watch the latest app reviews featured on the show, head to http://www.NewsWatchTV.com/appwatch.html.