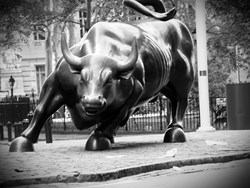 It's a crack in our market that could bring down the country.
(PRWEB) January 27, 2014
"The Wall Street Conspiracy" was featured on NewsWatch as part of its popular segment, Biz Report, that takes a look at the latest and coolest companies that consumers should be aware of. Andrew Tropeano conducted the film review and shared with viewers how it shed light on a subject unknown outside the financial industry.
To financial lamens, the practice of "naked short selling" may sound harmless. But in reality, it's anything but. To begin with, short selling is an acceptable practice on Wall Street where traders borrow a security from a broker and sell it, with the expectation that it will be repurchased and returned in three days.
Naked short selling is different in the sense that the seller never borrows the assets, but instead sells something they don't possess and then fails to deliver the repurchased shares. When this happens, the seller makes money but everyone else loses.
To educate the public on this practice, Brown Saddle Films founder, Kristina Leigh Copeland, produced and directed a documentary in 2012 called The Wall Street Conspiracy.
The documentary received support from publications around the country. Not only was it well produced and thought provoking, but it shed light on a subject unknown outside the financial sector. To learn more about it or to watch the documentary, visit http://www.thewallstreetconspiracy.com.
About NewsWatch
NewsWatch is a weekly 30-minute consumer oriented television show that airs monthly on the History Channel and weekly on the ION Network. NewsWatch regularly features top technology products, unique and beautiful travel destinations, health tips, medical breakthroughs, and entertainment news on the show. A recent addition to NewsWatch, AppWatch is a weekly segment that provides viewers app reviews and game reviews of the latest and hottest apps and games out on the market for iOS and Android devices.
The show airs in 180 markets nationwide as well as all of the top 20 broadcast markets in the country, and is the preferred choice for Satellite Media Tour and Video News Release Distribution.
For more information or to watch the latest company reviews featured on the show, head to http://newswatchtv.com/biz-report.html