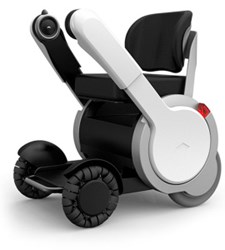 The design of WHILL Type-A is very next-generation!
(PRWEB) February 21, 2014
The "Whill Type-A Wheelchair" was featured on NewsWatch as part of its 2014 Consumer Electronic Show Wrap Up, which took a look at the latest and coolest technology showcased at the trade show. Andrew Tropeano, a host of NewsWatch and technology expert, conducted the product review and shared with viewers how the Type-A is a completely renovated and modernized wheelchair.
WHILL has taken the traditional wheelchair most consumer know and completely reinvented it, creating the WHILL Type-A. It still has four wheels, but they built a unique wheel for the front tires that allows for small radius turning on all types of surfaces. The 4-wheel-drive system and big front wheels enable riders to avoid getting stuck on cracks or uneven surfaces.
Next, WHILL built a control system that is reminiscent of a computer mouse, making it simple and easy to direct with one hand. The size of the Type-A is incredibly compact, 23 inches wide and 32 inches long, making it an easily fit for cars and standard door frames.
The WHILL Type-A is a cool, modern looking wheelchair that places users in a forward stance so they're not leaning backwards.
WHILL has begun to receive Pre-Orders for a limited number of customers through their web site. To learn more, visit http://www.whill.jp.
About NewsWatch
NewsWatch is a weekly 30-minute consumer oriented television show that airs monthly on the History Channel and weekly on the ION Network. NewsWatch regularly features top technology products, unique and beautiful travel destinations, health tips, medical breakthroughs, and entertainment news on the show. A recent addition to NewsWatch, AppWatch is a weekly segment that provides viewers app reviews and game reviews of the latest and hottest apps and games out on the market for iOS and Android devices.
The show airs in 180 markets nationwide as well as all of the top 20 broadcast markets in the country, and is the preferred choice for Satellite Media Tour and Video News Release Distribution.
For more information or to catch all the products reviewed at the 2014 Consumer Electronics Show, visit http://newswatchtv.com/ces-2014.html.