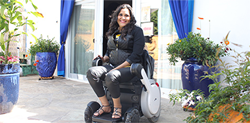 The WHILL Type-A 5.0 personal mobility device is cool, functional, and comfortable!
Washington, DC (PRWEB) June 24, 2014
"WHILL Type-A 5.0" was featured on NewsWatch as part of its monthly Tech Report, which takes a look at the latest and coolest products in the technology world. Mallory Sofastaii, a host of NewsWatch and technology expert, conducted the product review and shared with viewers how it's the perfect gift for Dads, recent graduates, and anyone with a disability.
At the 2014 Consumer Electronics Show in Las Vegas, NewsWatch took a look at WHILL Type-A, a new personal mobility device that redefines assistive technology. Since then, the designers have made some significant changes.
WHLL Type-A 5.0 is a 4 wheel drive char with unique large front wheels that give a super tight turning radius and can cover nearly any terrain. They've added a new directional joystick type controller that's more intuitive and responsive for the user, and the speed control is now protruding out of the arm for smoother and easier speed changes.
WHILL added an adjustable foot rest and seat that make for a more comfortable ride, and they added larger buttons that make the power seat adjustments much easier and user friendly.
The chair is still compact, comfortable, and very modern looking. Now, to learn more about the chair, just head to https://whill.jp/.
About NewsWatch
NewsWatch is a weekly 30-minute consumer oriented television show that also airs monthly on the History Channel, Bio Channel, and ION Network. NewsWatch regularly features top technology products, unique and beautiful travel destinations, health tips, medical breakthroughs, and entertainment news on the show.
Tech Report is a weekly segment that provides viewers tech reviews of the latest and hottest consumer oriented technology products on the market.
NewsWatch airs in 180 markets nationwide as well as all of the top 20 broadcast markets in the country, and is the preferred choice for Satellite Media Tour and Video News Release Distribution. For more information or to watch the June 2014 show, visit http://newswatchtv.com/tech-report.html.
NewsWatch airs on the History Channel at 6:00 – 6:30 AM ET/PT and on the Bio Channel from 7:00 – 7:30 AM ET.