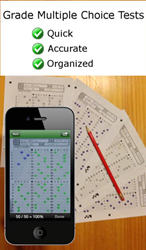 Washington, DC (PRWEB) June 22, 2014
"ZipGrade" was featured on NewsWatch as part of its monthly AppWatch, which takes a look at the latest and coolest mobile applications on the iOS, Android, and Windows market. Andrew Tropeano, a host of NewsWatch and mobile technology expert, conducted the app review and shared with viewers how it helps teachers save time and increase accuracy in test grading.
According to Zipgrade, on an average school day, teachers spend over 7 hours in the classroom. They also spend an additional 3 to 5 hours grading, creating lesson plans, and communicating with parents. Since teachers spend an enormous amount of time working outside the classroom, it's important that they use as many time saving techniques as possible.
One solution is Zipgrade, an app that grades up to 20 Scantron sheets per minute. With Zipgrade, a teacher can hand out a multiple choice test with 20, 50, or 100 questions. When a student is done with their test, they can have it instantly graded with a teacher's iPhone or iPad, or a teacher can allow the students to grade the test themselves.
With or without internet, test results are stored for later review on the app or on ZipGrade Cloud. The results can be exported to a CSV or PDF file, which makes it easy for a teacher to upload scores to their gradebook.
On average, 700-900 teachers use Zipgrade per day and 1.4 million papers have already been graded this year alone.
The app is free to download, but the full version costs $1.99 for 2 months or $6.99 for 1 year.
To learn more, head to http://www.zipgrade.com today.
About NewsWatch
NewsWatch is a weekly 30-minute consumer oriented television show that also airs monthly on the History Channel, Bio Channel, and ION Network. NewsWatch regularly features top technology products, unique and beautiful travel destinations, health tips, medical breakthroughs, and entertainment news on the show.
A recent addition to NewsWatch, AppWatch is a weekly segment that provides viewers app reviews and game reviews of the latest and hottest apps and games on the market for iOS, Android, Windows, and other devices.
NewsWatch airs in 180 markets nationwide as well as all of the top 20 broadcast markets in the country, and is the preferred choice for Satellite Media Tour and Video News Release Distribution. For more information or to watch the June 2014 show, visit http://newswatchtv.com.
NewsWatch airs on the History Channel at 6:00 – 6:30 AM ET/PT and on the Bio Channel from 7:00 – 7:30 AM ET.