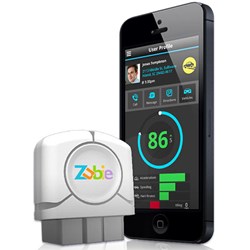 If you're trying to save money on owning a car by avoiding costly repairs, you've got to check out the Zubie!
Washington, DC (PRWEB) November 02, 2013
The "Zubie Mobile Application and Zubie Key" were featured on NewsWatch as part of its popular segment, AppWatch, that takes a look at the latest and coolest mobile applications and services on the iOS and Android market. Andrew Tropeano, host of AppWatch, conducted the app review and shared with viewers how the application and key can help users save money and increase the life expectancy of their car.
In 2013, a Survey Monkey study found that 43% of respondents spent $500 or more per year on repairing and maintaining their car. With the amount of money spent on buying or leasing a car, drivers should be more proactive in making sure they're car is running properly. For drivers not interested in spending hundreds of unnecessary dollars, there's a unique product called Zubie.
The Zubie key is the size of a 2 inch pager and plugs directly into the on board diagnostic port. Once plugged in, it monitors the car and proactively tells drivers if there are any issues with it. Zubie connects to the cloud through a "T-mobile" wireless service and sends information directly the driver's phone where it's easily seen on the application.
The app not only monitors the car's health every time it's turned on, but it also determines the location of the car in case it's ever stolen, or helps coordinate carpools with other users. The app can also help drivers get lower insurance rates and discounts, as well as provide an estimate of the blue book value of the car.
To learn more, head to http://zubie.co/.
NewsWatch is a weekly 30-minute consumer oriented television show that airs monthly on the History Channel and weekly on the ION Network. NewsWatch regularly features top technology products, unique and beautiful travel destinations, health tips, medical breakthroughs, and entertainment news on the show. A recent addition to NewsWatch, AppWatch is a weekly segment that provides viewers app reviews and game reviews of the latest and hottest apps and games out on the market for iOS and Android devices.
The show airs in 180 markets nationwide as well as all of the top 20 broadcast markets in the country, and is the preferred choice for Satellite Media Tour and Video News Release Distribution.
For more information or to watch the latest app reviews featured on the show, head to http://www.NewsWatchTV.com/appwatch.html.