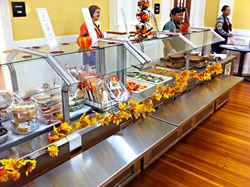 "The kids are so excited about the new meal options. They love the food! And this shows in the participation rate: it is up 10%!"
Islandia, NY (PRWEB) October 22, 2014
Newton Public Schools and Whitsons School Nutrition, foodservice providers at Newton schools, partnered to install a brand new cafeteria serving line at Angier at Carr Elementary School. The serving line opened this school year to everyone's delight, offering a new and improved menu featuring full service hot and cold meals.
Previously, due to the lack of a full service line, lunch at the school was served in individually packaged meals which limited the variety of offerings available for the children. With the new serving line, the students are currently able to enjoy a wide variety of hot and cold options such as "Sensational" Southwest chicken salad, BBQ style roasted chicken with roasted veggies, various whole grain deli wraps and sandwiches, etc.
According to April Liles, Whitsons School Nutrition's Food Service Director at Newton schools, "the kids are so excited about the new meal options. They love the food! And this shows in the participation rate: it is up 10%!"
# # #
Whitsons Culinary Group provides a wide range of highly customized dining services to public schools, corporations and institutions, with a strong focus on nutritious, high quality menus made from fresh, wholesome ingredients. Whitsons has a long and proud history of excellence and growth since 1979 and currently ranks the 4th largest school nutrition provider in the United States. Whitsons' scope of ¬¬expertise and services extends to: emergency dining, residential and healthcare dining, prepared meals, and school dining and services.