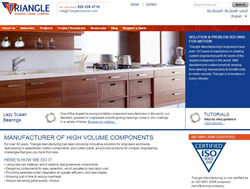 Oshkosh, WI (PRWEB) January 06, 2015
Triangle Manufacturing is pleased to announce the launch of its fully-revamped website, http://www.TriangleOshkosh.com, which went live on December 22nd. The new website is designed to assist customers by providing the ultimate user-friendly experience with improved searchability and functionality throughout, allowing our customers to access detailed product information, downloadable STEP and PDF files and educational product resources.
Triangle's international customers will appreciate multiple language functionality (German, French, Italian, Czech and Spanish) and quote request options that allow global customers to contact Triangle at anytime, and with ease.
Triangle is also proud to highlight their capabilities: tooling, stamping, broaching, and MIG welding, along with value added services such as: full assembly options, packaging, bagging and product testing.
The website was designed with an industry focus in mind, highlighting Triangle's aptitude with agriculture, display and HVAC industries. We also worked to showcase some of the more interesting applications that our products have been a part of, along with customers who have used our products in unusual ways.
About Triangle Manufacturing
For almost a century, Oshkosh, Wisconsin's Triangle Manufacturing Company has used a foundation of experience paired with technical know-how and advanced automation to be the leader in fully customizable metal fabrication, product innovation and invention. We have introduced and redesigned fresh products that are progressive in their respective industries. Whether you need lazy susan bearings and HVAC components, pillow block mountings and blower bearing brackets or rod ends and direct-drive motor mounts, you can rely on Triangle Manufacturing's Creative Engineering. For more information, samples or quotes, visit us at http://www.TriangleOshkosh.com.
Contact:
Kylie McGowan
Marketing Coordinator
http://www.TriangleOshkosh.com
info(at)triangleoshkosh(dot)com