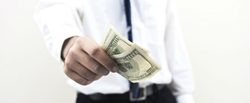 When the [escrow] process is slowed due to mistakes or negligence, the costs involved can increase significantly.
San Diego, CA (PRWEB) August 13, 2014
Last month, Greater San Diego Association of Realtors announced that home sales are bouncing back this summer. In reaction to higher sales, New Venture Escrow shared insights to other costs associated with real estate,
"With increased home sales comes the value of knowing how to avoid delays in escrow," says Casey LeBlanc, president of New Venture Escrow.
"Escrow can sometimes be an expensive and time-consuming process," LeBlanc notes. "When the process is slowed due to mistakes or negligence, the costs involved can increase significantly."
Here are areas to watch for in order to avoid costly delays in a real estate transaction:
Document errors. "A misspelled name or incorrectly recorded street address happens more often than people may think," says LeBlanc. "Or the problem can be something as simple as a page or two missing from a key document. Such errors in paperwork can generate confusion and unnecessary delays."
It's vitally important to review every item of paperwork involved, in close consultation with one's real estate and escrow agents.
HOA contingencies. An escrow agent is responsible for ordering HOA documents (when applicable). These documents—generally required by the buyer and the buyer's agent, and paid for by the seller—offer a detailed report about the history and health of the HOA company associated with a given property.
In most cases, the purchase agreement includes a contingency noting that HOA documents must be received, reviewed and signed off by a specified deadline. Failure to order these documents and get them to the appropriate parties on time can delay the closing of escrow.
Problems with titles. According to LeBlanc, this may be the most common area where issues arise that cause costly delays:

Statement of Information. As part of the closing process, an escrow officer will get a Statement of Information signed by the seller. "If this document isn't thoroughly completed, the title company may not have all of the information needed about the seller," he says. "This may lead to last-minute discovery of any liens and judgments on the title, another unneeded delay."
Preliminary title report. This document outlines any possible issues existing with the property being sold. Such issues can include outstanding liens, an unknown right-of-way, easements, encumbrances or judgments against the owner of record or the property itself. Sometimes the title report may show that the seller co-owns the property with another individual who must also sign the closing documents (but may or not may be easy to find). Or the title may be held by a trust or it could be in probate.
Any of these issues pose a threat to closing a sale, so again, it's critical that escrow review the title report and inform all parties of any issues as soon as possible.
Inaccurate judgment. Sometimes a judgment may be pending against a person with a name similar to the buyer's or seller's name. In most cases, title companies and escrow agents will accept a signed affidavit from the affected party that states he or she is not involved in the judgment.
Earnest money deposits. Typically, an earnest money deposit is due within 72 hours of escrow being opened. Failure to do so can result in buyers lacking sufficient purchasing funds or other delays.
Lender fees. Lenders will request fees as part of the loan process and escrow must make sure such fees are accurate and not over-estimated. Neglecting this part of the process not only postpones the closing of escrow, it can result in serious financial consequences.
Buyers can be negatively affected by delays in the escrow process – but the same holds true for sellers. A delayed escrow may mean that sellers must continue to pay taxes, HOA expenses and interest for every day they live on the property and it isn't sold.
"A responsible escrow agent makes sure that all parties are kept informed throughout the process," LeBlanc says. "Our biggest responsibility is collecting information from all parties and keeping the real estate transaction on track. This helps to reduce or eliminate delays that consume further time and money."