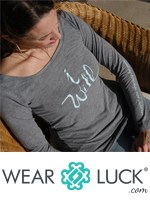 'Women are so excited to finally have a reason to make a New Year's Resolution! I look forward to hearing about all the exercise, diet and romantic goals that are meet in 2014!' - Michelle Hastings, Ringleader of WEAR LUCK
Little Rock, AR (PRWEB) December 26, 2013
While most people make resolutions in January to eat better, work out more, live better, etc., only about 8% actually stick to it throughout the year. That's where Wear Luck comes in with a new line of shirts with "I Will" printed on the front and a resolution printed on the left sleeve so it can be seen every time it's worn. When talking on the phone, typing on the computer or about to order the cheeseburger & fries, people are inspired to stick to their goals. Choose from popular resolutions such as "I will count my blessings not calories", "I will text less & talk more", "I will plant a seed & grow a garden" and more. For the month of January, Wear Luck will offer personalization on the "I Will" shirts and imprint a custom resolution on the sleeve.
These trendy fashionable "tops with a purpose" are available online at http://www.wearluck.com.
Blessings & Good Luck!