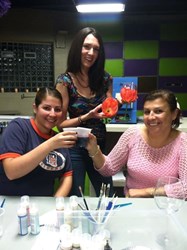 We've got the art and music, you've got the champagne. New Year's Eve is all about fun and making memories!
Ferndale, MI (PRWEB) December 12, 2013
Inspiration Uncorked in Downtown Ferndale is throwing a New Year's Eve 2014 art party. The DIY art studio invites guests to enjoy art, music, food, and great friends with a night of classes on December 31st from 9:00pm to 12:30am.
New Year's Eve in Detroit at Inspiration Uncorked is the ideal way to usher in 2014. Select from wine glass or bottle painting, epoxy clay ring, bracelet or pendant, or design 2014 holiday ornaments. Make sure to BYOB – champagne is must-have at this party. Seating is limited so make advance reservations online.
Individuals, couples, and small groups are invited to the party. Owner Mary Higgins wants everyone to have a great time with art. She describes the New Year's Eve party as a great way to celebrate New Year's without heading to a bar. Mary says "Ferndale is a creative town and is a popular place for New Year's Eve party-goers."
The art party studio caters to artists of all talent levels, and no previous artistic experience is needed. Mary states that the majority of her students had no idea they were so talented. Experienced art teaches guide students through the project. Every piece is different, even in the same class, as students are encouraged to customize their art.
Seating for the New Year's Eve party is limited. Kick off 2014 and have fun doing it! Guests over 21 are invited to bring their favorite beer, wine, or cocktails. Share a bottle of wine, make art, dance and ring in the New Year. Tickets are $45 each and are available online at http://www.inspirationuncorked.com.
Inspiration Uncorked is an art party studio located in downtown Ferndale, Michigan. The studio offers a large selection of BYOB public and private classes, and provides everything necessary for a creative and relaxing night with friends. Learn more at http://www.inspirationuncorked.com, facebook.com/inspirationuncorked, or on twitter at @ferndaleDIYart.