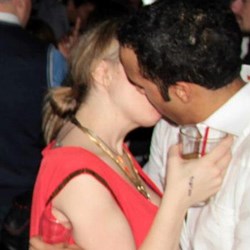 Statistically speaking, we see the most 'connections' and relationships stemming from our New Year's Eve event.
New York City, NY (PRWEB) November 25, 2013
Here to help singles in their quest is OnSpeedDating.com, a NYC-based dating service, that credits the coming of the New Year to being a catalyst for new relationships.
Company Co-Founder and resident dating expert, Amber Soletti met her live-in love at OnSpeedDating's 2012 New Year's Eve Party.
"Statistically speaking, we see the most 'connections' and relationships stemming from our New Year's Eve event," explains Soletti. "I attribute it to being that time of year where people really begin to evaluate where they are in life with many re-committing to finding love."
On Tuesday, December 31st 2013 at Fashion District located Stitch Lounge, OnSpeedDating's formula for fostering 'love connections' will include an even gender ratio of 350 singles ages 25-45, an hour open bar, all-night drink specials, complimentary hors d'oeuvres, DJ, dancing, mingling, and ice breakers, specifically designed and facilitated to "match" compatible singles up throughout the night.
At midnight singles will enjoy a complimentary champagne toast, more mixing and mingling and a light continental breakfast.
It would seem that more singles than ever are looking for love as Soletti states on-line ticket sales are already up 21% over last year. "I have no doubt that this year's New Year's Eve singles party will be our best to date," says Soletti. "With over 350 singles in attendance it's our goal for everyone to have someone to kiss come midnight."
WHAT: OnSpeedDating's New Year's Eve Singles Party
DATE: Tuesday, December 31st 2013
START TIME: 7:00 p.m.
WHERE: Stitch Lounge – (New York City) 247 West 37th St
REGISTRATION & COST: Pre-registration at OnSpeedDating.com
Early-bird tickets are available online for $45.00 with ticket prices continually rising until they are $100 at the door the evening of the event
OnSpeedDating is an innovative dating service created for savvy, swinging, city-dwelling singles who are tired of events geared to traditional criteria, like age range, income and personality IQ. What sets OnSpeedDating.com apart is its ability to foster personal connections through super "niche" singles events themed around people's dating "deal-breakers"; think physical preferences, political views, backgrounds, interests and even fetishes.
Upcoming Singles Events:
Men With Accents Are Hot Speed Dating (December 4, 2013)
Beauty & The Geek Speed Dating (December 7, 2013)
HOT or NOT Speed Dating (December 9, 2013)
NOT From NYC Gay Speed Dating (December 15, 2013)