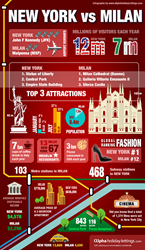 Americans may love their coffee, but the Italians practically worship it and consume around seven billion cups each year.
(PRWEB UK) 24 June 2014
Milan has long enjoyed recognition as the fashion capital of the world, famed as much for its designers as for its designer shopping outlets. In recent years, however, the Italian city destination has seen fierce contention for fashion's top spot from its main rivals: London, New York and Paris. Since 2009, when Milan still ranked as the number one destination for fashion, the accolade has alternately awarded to London and New York; the American city holds the fashion crown in 2014. As Milan languishes in twelfth place, cities such as Los Angeles, Antwerp and Shanghai are quietly gaining ground as centres of fashion.
For the moment, however, Milan's greatest rival is New York. As Milan's celebrated fashion week once again grabs the headlines, leading holiday rental property experts Alpha Holiday Lettings have a launched a new infographic compares aspects these two legendary cities of fashion in a bid to discover the most popular destination.
Alpha Holiday Lettings' research has revealed some interesting facts and statistics; Americans may love their coffee, but the Italians practically worship it and consume around seven billion cups each year. Not to be outdone, Americans have adopted Pizza – a dish which originated in Italy in the first century AD – as their national dish, annually eating an astonishing three billion pizzas.
Clearly, New Yorkers are better able to afford to dine out on pizza a little more often than their Milanese counterparts; the average monthly disposable income of a New York citizen is approximately twice that of a Milan dweller. Despite this, New Yorkers appear to pay less for their accommodation; the average price of a two-bedroomed apartment in the Big Apple is US$636,000 whilst in Milan the same would cost US$778,000.
The good news for both cities is that they are incredibly popular with international visitors. New York is renowned as a shopping destination and twenty-four-hour party city that is home to some of the world's most iconic landmarks such as the Empire State Building and the Statue of Liberty, whilst Milan enjoys a rich architectural and cultural heritage and possesses some of the greatest artistic masterpieces on earth by the likes of Michelangelo and Leonardo da Vinci.
To discover more about how the fashionable cities of Milan and New York stack up against each other and draw a conclusion as to which emerges victorious, the new infographic can be found on Alpha Holiday Lettings' website at: http://www.alphaholidaylettings.com/vacation_features/55/new_york_vs_milan_fashion_capitals_comparison_infographics
About Alpha Holiday Lettings
Alpha Holiday Lettings has rapidly established itself as one of the top holiday rentals portal sites in Europe and offers self-catering apartments, cottages and holiday villas in Spain, England, France, Portugal, Italy, Cyprus, Turkey and other destinations around the world. The majority of the properties listed on Alpha Holiday Lettings are privately owned and are booked directly with holiday home owners. For more information, visit http://www.alphaholidaylettings.com.