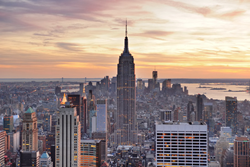 Albany, NY (PRWEB) March 07, 2014
HARP Mortgage Lender (http://www.harpmortgagelender.com) reports that the state of New York is experiencing a decline in HARP Refinances in a recent report released by the Federal Housing Finance Agency (FHFA) for the fourth quarter (as of December 2013). New York had a total of 745 HARP Refinance loans, which is a 321 loan difference when compared with the third quarter's total count of 1,066 HARP loans. Since the inception of the Government initiated refinance program, there are 65,548 HARP loans completed for New York.
By taking advantage of the HARP Program since its inception, the negative equity share in New York has been dropping at a consistent pace. Negative equity share according to CoreLogic (a leading property information, analytics and services provider in the U.S.) for the state of New York has gone from 7.7% in the first quarter, down to 6.3% in the fourth quarter of 2013.
Regardless of the improvement in negative equity for the state of New York, Realtytrac reported that foreclosure filings have gone up by 14% for the state compared with a month ago. It is 31% higher than a year ago as of January 2014. The Home Affordable Refinance Program is not only beneficial for underwater homeowners by reducing monthly mortgage payments, it also helps to lower the chances of defaults or foreclosures.
Click HERE to learn more about New York HARP Refinance
In the 2012 State of the Union Address Speech, the President made an announcement of plans for a HARP 3.0. It was brought up once more in his 2013 speech, but not discussed again in his 2014 speech. Many underwater homeowners across the nation are still in need of help with their underwater mortgage since they were not able to meet HARP 2.0's program guidelines. These individuals are still waiting for updates on President Obama's plan of HARP 3.0.
About The Home Affordable Refinance Program
Established in March 2009 by the Obama Administration and set forth by the Federal Housing Finance Agency (FHFA), the Home Affordable Refinance Program (HARP) has helped more than 3 million underwater homeowners in the U.S. today. Undergoing a revision in 2011, HARP expanded its eligibility guidelines and removed its cap off LTV limitations allowing for underwater homeowners with LTV's greater than 125 percent to refinance to a more affordable mortgage payments and/or loan terms. Because of the great success of HARP 2.0, the President announced in 2012 of a possible HARP 3.0, which would make more underwater homeowners eligible for a refinance by possibly removing even more roadblocks.
HARP Refinance Eligibility Guidelines:
1) Fannie Mae or Freddie Mac owns or has guaranteed the first loan.
2) Your current mortgage must have a note date of no later than May 31, 2009.
3) Borrower must be current with mortgage payments.
4) Borrower owes more than their home is worth, or there is minimal equity.
5) All mortgage payments have been prompt in the past 6 months.
6) No sixty (60) day late payments in the last 12 months.
Click HERE to see if you are HARP eligible
HARP Mortgage Lender is a nationwide online network of home loan professionals and lending institutions that are authorized to deal in the Obama Administration's revamped versions of the Home Affordable Refinance Program (HARP 2.0 - 3.0). To learn more from a HARP specialist, call toll-free at 866-442-2184.