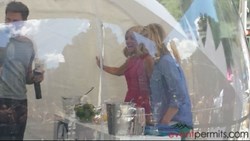 'The Electrolux event was a fun one to work on,' says Event Manager Stella Fitzpatrick. 'The bubble structure the event was held in was neat to see, and we were all happy to be involved and to work with Electrolux.'
New York, NY (PRWEB) August 21, 2013
EventPermits, a New York event permit agency, recently assisted Electrolux with a unique promotional event at Columbus Circle in New York City. The event was held in promotion of the new refrigerator from Electrolux, a French door refrigerator with innovative features like the Perfect Temp® Drawer with Luxury-Close™. Kelly Ripa was the celebrity guest host at the event, where she entertained a select group of invited press by blending frozen "mocktails." The event also featured a unique structure, which consisted of several large, connected balloons that housed the event and the Electrolux appliances.
EventPermits assisted with this event by acquiring the necessary permits and certificates, and by coordinating several other aspects of the event. The following permits were needed for the activities to run smoothly and legally: the Department of Buildings Permit required for the shade cover of the structure, the Health Permit required for distributing samples and the Generator Permit needed for the generator that powered the event. EventPermits also secured the Generator Handler Certificate required to run the generator. Additionally, the agency coordinated parking and security, which consisted of four guards.
"The Electrolux event was a fun one to work on," says Event Manager Stella Fitzpatrick. "The bubble structure the event was held in was neat to see, and we were all happy to be involved and to work with Electrolux."
EventPermits cuts through the red tape of the special event process, working as a behind-the-scenes support team, exclusively with, and on behalf of their advertising, public relations and event marketing agency clients, in order to secure prime locations and the necessary permits for successful special events from coast to coast. Based in Hoboken, New Jersey and the New York City metro area, EventPermits also has fully staffed offices in Atlanta, Chicago, Los Angeles, New Orleans, San Francisco and Toronto. To obtain a quote, visit http://www.eventpermits.com or contact Stella Fitzpatrick by telephone at (201) 223-1602.