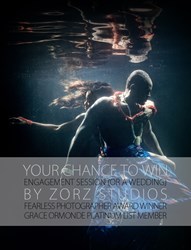 [Photographer] quickly took our idea and completely blew it out of proportion of what we could imagine.
New York, NY (PRWEB) January 11, 2014
Many engaged couples dream of a romantic pre-wedding photography session to depict their forming union and passion for each other. There is a traditional, whether soft or whimsical, feel to these sessions but some of the couples are open to an outside-the-box vision and they hunt for the artists and studios capable of fulfilling their unique photography fantasies. One of them, Zorz Studios, does not only cater to such demands but also offers this elevating experience free of charge.
There is a catch, of course. Zorz Studios, coming from fashion and commercial photography, is known for its editorial and elaborate production made available to the marrying couples and private clients. Realizing that not every imaginative couple may have means of hiring a suitable artist, every year or two the studio opens the doors to all adventurous minds for a chance to win an engagement session—or even a wedding—by entering a contest. The contest, dubbed EngagEd, is intended to push and award people's own creativity and ambitions. The entrants bring their bold ideas to the table and two wining couples secure the resources and skills of Ed Hafizov, studio's creative director and lead photographer, to turn their fancies into the reality.
As Maya B., one of the past contest winners says, "Winning the EngagEd contest, we came to Ed with an idea for a 1930's inspired Engagement photoshoot. Ed, being himself with his thirst for adventure, quickly took our idea and completely blew it out of proportion of what we could imagine. It was such a memorable experience…"
This successful project is supported for couples dreaming of a fashionable, daring, and adventurous production, who are ready to herald and kick off their new life with impact. More details can be found on project information page.
About Zorz Studios
Founded in 1987, Zorz Studios is Manhattan-based boutique photography studio, offering arousing and daring fashion, commercial, wedding, and beauty photography. Fearless Photographer Award winner and distinguished member of Grace Ormonde Platinum List, its creative director and owner is eager to step out of his and willing clients' comfort zone to create the artwork with a lasting impression.