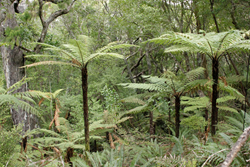 Geysers, thermal features, stunning snow-capped mountains, odd forests with ancient tree ferns, and some of the oddest birds on Earth, capped at the end the day with a great glass of wine and fine food!
Los Angeles, CA (PRWEB) August 29, 2015
Naturalist Journeys is excited to announce a new eco-tour, January 5-18, 2016, to take in the scenic splendor and unique ecology of New Zealand. Owner Peg Abbott says, "New Zealand's scenery rivals the splendor of Alaska, yet is replete with unique species — endemics found nowhere else on Earth." On a scouting trip, Abbott found lodgings and dining to be delightful, a tour feature important to the company. Local expertise is also of value, and in finding Nature Quest New Zealand, a company specializing in birdwatching and nature tourism on both North and South islands, Abbott felt confident to fully launch this exciting new destination.
On this new two-week nature and birding tour, participants explore both North and South Islands. It is a good fit for this top birding and wildlife company, as birds are the main wildlife attraction and the focus of widespread conservation initiatives. On tour, participants meet local "Kiwis" intent on saving rare wildlife such as Saddleback, Stitchbird, Whitehead, Takahe and Red-Crowned Parrot on Tiritiri Matangi Island. Tour participants can thrill in seeing thousands of shorebirds on the wing at Miranda, a site vital to migrating shorebirds. Amid vast congregations of Eastern Bar-tailed Godwits, and Far Eastern Curlews, Knots and South Island Pied Oystercatchers, local experts help them search for the rare and endemic Wrybill.
New Zealand was chosen as the film site for the movie "Lord of the Rings" Zealand because its forests hold such other-worldly character. New Zealand Nature and Birding participants step into these forests where they listen for the haunting call of endangered Kokako echoed in misty terrain covered by curious podocarp trees and giant tree ferns. Cultural elements are included in the tour as wel,l as participants sense the great spiritual significance of the Maori people at Tongariro.
The tour includes a ferry crossing between islands, a pelagic trip at Kaikura to see albatross and other seabirds, two nights at the famed Arthur's Pass Wilderness Lodge and time to look for rare Black Stilt and Banded Dotteral near Mount Cook. An extension to Stewart Island / Fjordland National Park allows participants to spot rare Brown Kiwi which forage at night on a starlit beach. Abbott calls the island of Ulva, featured on the tour extension, "a conservation gem that can't be described". An extension highlight is walking through lush podocarp forests to find rare Red-crowned Parrots. The tour ends with time in the sculptured mountains and valleys of Fjiordland National Park, with an option to take a cruise in spectacular Milford Sound at dawn the final morning.
Cost of Naturalist Journey's New Zealand Birding and Nature tour is $4950 per person, from Auckland, and departing from Dunedin, where tour participants can stay on to explore at leisure. The extension, $1395 per person, runs January 18-21, and also ends in Dunedin. Prices are based on double occupancy and include most meals. Find the full itinerary at http://naturalistjourneys.com/jcalendar/jc_NZ16.htm.
More about Naturalist Journeys:
Naturalist Journeys LLC, a top birding and nature tour company, offers specialty small group tours and travel worldwide, from the western U.S. to Alaska, Hawaii and Florida, Trinidad and Tobago, Costa Rica, Panama, safaris in Africa and more. Naturalist Journey's guided nature and birding tours feature expert guides with decades of experience in birdwatching, travel photography and other forms of eco-tourism. Naturalist Journeys also offers hiking and adventure travel tours in many national parks and wildlife reserves, including the Galapagos, Antarctica and the Amazon.