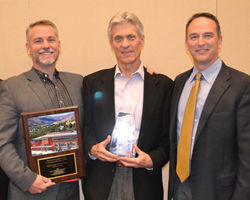 We are very pleased that HREI magazine has honored our co-founder, Tim Oliver, and our project, Buck Creek Medical Plaza, in its prestigious annual awards program.
DENVER, Dec. 15, 2016 (PRWEB) December 15, 2016
NexCore Group, a national healthcare real estate developer, took top billing in two categories of Healthcare Real Estate Insights™ magazine's annual national awards program. The winners were announced Dec. 8 during a live presentation at the RealShare Healthcare Real Estate conference in Scottsdale, Ariz.
The prestigious Lifetime Achievement Award went to Tim Oliver, NexCore's Senior Vice President, Healthcare Development. Denver-based NexCore also won top honors for its Buck Creek Medical Plaza in Avon, Colo., Winner of the Best New Medical Office Buildings and Other Outpatient Facilities (25,000 to 49,999 square feet) category.
The HREI Insights Awards™ are the only national awards dedicated to recognizing excellence in the areas of healthcare real estate (HRE) development and executive leadership. The awards are presented annually by HREI™ magazine, the first and only national magazine entirely devoted to covering HRE development, financing and investment.
"We are very pleased that HREI magazine has honored Tim Oliver, and our project, Buck Creek Medical Plaza, in its prestigious annual awards program," NexCore President & CEO Greg Venn says. "Tim's leadership and strategic vision over the years has contributed mightily to NexCore becoming the outstanding healthcare real estate firm it is today."
"There are certain characteristics of a company that really matter, and this award is more of a tribute and recognition of the success of NexCore than me," Mr. Oliver said at the awards presentation. "I was a part of it. But what we learned is that leadership and integrity are the things that really matter in a healthcare real estate company.
"This has been a tumultuous time in the last 40 years in our industry, but the next 40 years is going to be even more so, and I look forward to being a part of it."
As for the winning MOB project, Todd Varney, NexCore Managing Director Development and Acquisitions, notes, "From its challenging site acquisition process to its fast-track development schedule, Buck Creek Medical Plaza embodies the spirit of collaboration and dedication that defines NexCore. Our tenants and the local community leaders were already delighted with the project, but we are honored to now have had our hard work and creativity recognized nationally."
HREI™ Editor John B. Mugford adds, "NexCore was highly deserving of both awards. We have known Tim Oliver for about 12 or 13 years and have always been impressed by his passion and experience. He has been a fixture and key influencer in the HRE space, whose vision has made a true difference in our industry. And Buck Creek Medical Plaza was simply a great real estate story. NexCore skillfully navigated an extremely complex deal with collaboration and grace.
"Our judges were highly impressed with these outstanding candidates who exemplify the best in healthcare real estate."
Lifetime Achievement Award Winner: Tim Oliver
Tim Oliver's legacy includes being involved in the development and consulting engagements for more than 90 facilities totaling 5 million square feet in the past 40-plus years. He has focused exclusively on medical real estate since 1974 and has co-founded several firms.
Tim Oliver and John McWilliams were involved in the formation of Western Skies (WSI) in 1970, and led the company's development of its first on-campus MOB in 1975. At the time, the concept of on-campus medical office buildings was in its infancy. WSI developed the second on-campus MOB in the Rocky Mountain region for Mercy Hospital. Over the next 16 years, WSI developed 1.5 million square feet of ambulatory facilities and managed over 1 million square feet of healthcare properties.
In 1986, Tim was one of the original founders of Integrated Medical Campus, providing strategic planning/development services for over 50 medical projects. In 1987, IMC developed one of the nation's first "medical mall" or "hospital without beds" projects that featured a freestanding emergency department, ambulatory surgery center, imaging, physical therapy and medical offices.
In 2004, Mr. Oliver joined three founders from The Neenan Company to form the Denver-based NexCore Group. To date, NexCore Group has developed and acquired 6.1 million square feet of real estate, executed leases totaling 3.5 million square feet, and now has 70 employees in seven offices across the United States.
Today, Mr. Oliver is actively training the next generation of strategic-thinking development executives at NexCore Group. He has been a thought leader at NexCore, responsible for understanding the legislative and economic environment, best practices in the delivery of care, and population health management/wellness initiatives that affect the development of healthcare real estate. His strategic thinking continues to provide top-of-class service to NexCore's national healthcare clients.
Medical Office Building Development Winner: Buck Creek Medical Plaza, Avon, Colo.
Winner of the "Best New Medical Office Buildings and Other Outpatient Facilities (25,000 to 49,999 square feet)" Category, Buck Creek Medical Plaza is a $28 million, three-story, 48,300 square foot Medical Office Building and Freestanding Emergency Department/Urgent Care Center located in the heart of the Vail Valley. The facility, which opened in June 2016, realized the longstanding, elusive goal of a new, one-stop outpatient center in the Valley, further complicated by unique geography, topography and extremely high concentration of government-owned land.
In a unique collaboration, NexCore was able to secure the perfect 2.15-acre parcel through an ingenious and exemplary land swap that involved the Eagle River Fire Protection District, the City of Avon and New York financier and Vail resident Oscar Tang, an individual highly committed to the Vail Valley, who owned adjacent land. NexCore fast-tracked its process and broke ground on Buck Creek seven months later.
With anchor tenants Centura Health and Colorado Mountain Medical, and other specialties such as physical therapy, dental and allergy, top-quality healthcare is being delivered to a Colorado mountain community that has been especially challenged by the changes in medical care during the past few years.
Buck Creek Medical Plaza's centralized location with great visibility, beautiful views, access from U.S. Interstate 70 and free parking provides the kind of care the Vail Valley community demanded and deserved, while further establishing the area as a top-notch resort and residential community with quality healthcare, physicians and diversified jobs.
With its vibrant mix of providers, Buck Creek Medical Plaza was 94 percent leased at opening. The service mix creates a built-in referral network for tenants and is projected to generate 88,000 annual patient visits.
A third NexCore project, MC Fitness & Health, was named as a 2016 Finalist. In the four-year history of the highly competitive HREI Insights Awards™ program, NexCore projects have been named Finalists 10 times and have won three times, including Mr. Oliver's Lifetime Achievement Award.
For more information on the awards, please visit http://www.HREInsights.com.
About NexCore Group LLC
NexCore Group develops healthcare facilities for hospitals, health systems and physicians. We solve complex real estate challenges through innovative building solutions and creative financial structures. In a rapidly changing healthcare industry, NexCore has the superior expertise to deliver quality environments and flexible spaces that help grow your business, lower expenses and mitigate risk. Over the past 25 years, NexCore has developed and acquired a total of 6.1 million square feet of health care facilities across the country. Our company has been recognized repeatedly as one of the Top Healthcare Real Estate Developers in the U.S. by Modern Healthcare magazine. NexCore is headquartered in Denver, Colorado, and as the company continues to grow so does its geographic reach. Over the last several years, NexCore has opened regional offices in Chicago; Bethesda, Md.; Portland, Ore.; Dallas; Orlando, Fla.; and Laguna Niguel, Calif. For more information, please visit http://www.nexcoregroup.com. Contact: Tracy Hindman, Marketing Director, 303-293-0673.