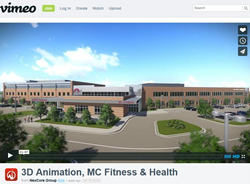 As our development partner, NexCore Group has played an important role in helping us realize our vision for the MC Fitness & Health facility.
Orange Township and Columbus, Ohio, and Denver (PRWEB) October 01, 2014
NexCore Group, a national healthcare real estate developer, has broken ground on a 130,000 square foot, integrated ambulatory care center for Mount Carmel Health System in Orange Township. The facility has been named MC Fitness & Health. (For a video of this project, please visit: https://vimeo.com/106837025.)
Orange Township is located in Delaware County, one of the fastest growing counties in Ohio and the number one ranked county in Ohio for the growth of senior citizens.
Mount Carmel is a member of CHE Trinity Health, the second-largest Catholic healthcare system in the United States. MC Fitness & Health is one of three outpatient centers that NexCore is currently developing for CHE Trinity Health in different parts of the country.
The healthcare delivery system is evolving, and health systems are beginning to develop facilities that integrate outpatient, physician and medical fitness/wellness services as a way to manage population health, reduce acute care readmissions, and prepare for healthcare reform," says Jarrod Daddis, Executive Managing Director of Development at NexCore Group. "The MC Fitness & Health facility is one of the ways that Mount Carmel is moving toward a value-based model of patient care." (See project renderings.)
The project site is located on the US 23 retail corridor at Corduroy Road. A new pedestrian bridge just north of the site, which will promote the visibility of MC Fitness & Health, spans across US 23 to provide access to the community trail system, County Library, Inn at Olentangy Trail (a senior assisted living residence), and North Orange Park Aquatics Center.
Population Health Management
MC Fitness & Health will be a comprehensive, state-of-the-art ambulatory care and medical fitness center that offers quality outpatient care, fitness, wellness education, and rehabilitation facilities to the residents of Delaware County and surrounding areas. The facility will provide a venue for patients and the community to pursue healthier lifestyles and manage chronic health problems and for Mount Carmel employees and physicians who work at the facility or live in the primary market area the opportunity to improve their own health status.
"This new facility, which will provide comprehensive services under one roof, will be a very important tool for managing the health of the Delaware County community," says Brett Justice, Vice President of Strategic Advancement at Mount Carmel. "As our development partner, NexCore Group has played an important role in helping us realize our vision for the MC Fitness & Health facility. The NexCore team came equipped with an appreciation of healthcare strategy, they worked to identify the most advantageous location for the facility, and they shared valuable best practices regarding the development and programming of integrated medical fitness centers."
Integrated Programming and Design
The MC Fitness & Health facility will be home to an urgent care center, ambulatory services, an integrated medical fitness center, wellness education services, physician offices, an education/conference center, and retail services. The fitness center will be the largest component of the facility in both size and programmatic scope and will provide medically integrated programming and oversight for a wide variety of individuals who feel that commercial fitness centers cannot accommodate their unique healthcare needs.
Clinical program areas in the facility will share common areas such as patient waiting and registration, as well as common parking and lobby areas. Some of the clinical areas, such as physical therapy and cardiac rehabilitation, will be located immediately adjacent to the main workout areas of the medical fitness center to provide cross utilization opportunities of space and equipment by patients and members.
In addition to housing primary care and specialty physicians with the Mount Carmel Medical Group, the facility will provide approximately 20,000 rentable square feet of medical office space for independent physicians.
The interiors of the facility have been designed to accommodate patient-centered care and wellness, efficient circulation, flexible floor plates, and building systems that are easily maintained and adaptable. The facility's modern interior design provides a sense of brightness and optimism in public spaces. In addition, the rich finishes used throughout the medical fitness center in the lobby, café, locker rooms, indoor pools, and workout areas convey an upscale feel found in a high-end health club. (See interior renderings.)
Site Selection
Mount Carmel identified Orange Township, and specifically the US 23 retail corridor, as the preferred area for the MC Fitness & Health facility. After being selected as developer for the project, NexCore led the site acquisition process that included market demand analysis, site identification, site due diligence, site selection and land closing, while working in close coordination with Mount Carmel.
NexCore identified potential sites in the target market area, meeting with land owners, brokers and engineers to quickly access the strengths and weaknesses of each site. The company performed detailed site due diligence — including conceptual civil design, entitlement, wetlands mitigation and traffic analysis — to recommend a site for approval by Mount Carmel.
The selected 11.5-acre site offers great visibility and branding for MC Fitness & Health, ease of patient access, future growth opportunities and a strategic market location in a growing suburban retail corridor. NexCore's expertise in site due diligence and acquisition delivered the optimal site for Mount Carmel to realize their short- and long-term business objectives for the new facility.
About NexCore Group LLC
In 2004, NexCore Group was formed to focus exclusively on the development, acquisition, and management of healthcare real estate for health systems, hospitals, and physician groups. Since that time, NexCore has grown into a 50-person company that has been recognized repeatedly as one of the Top Healthcare Real Estate Developers in the U.S. by Modern Healthcare magazine. NexCore provides a full spectrum of services that includes strategic and business planning, development, acquisition, ownership, financing, leasing, property management and asset management. The company's portfolio includes 3.8 million square feet of healthcare development and acquisition projects. The company is headquartered in Denver, Colorado, and as the company continues to grow so does its geographic reach. Over the last several years, NexCore has opened regional offices in Chicago, Illinois, Bethesda, Maryland, Portland, Oregon, Dallas, Texas, and Orlando, Florida, to expand its capacity across the country. For more information, please visit http://www.nexcoregroup.com. Contact: Tracy Hindman, Marketing Director, 303-244-0700.
About Mount Carmel Health System
A member of the Catholic Health Association and CHE Trinity Health, Mount Carmel has been a leader in patient care for more than 125 years. Our team of more than 8,000 employees, 1,500 physicians and 1,000 volunteers provides an array of cutting-edge, patient-focused primary and specialty healthcare services at four central Ohio hospitals and a free standing emergency department – Mount Carmel East, Mount Carmel West, Mount Carmel St. Ann's, Mount Carmel New Albany and Mount Carmel Grove City. Mount Carmel also provides high-quality healthcare services at our surgery centers, multi-specialty physician group practices, ambulatory and urgent care centers, hospice, palliative care, home care services and through MediGold, a Medicare Advantage plan. Mount Carmel is dedicated to medical and nursing education and training as well, with six physician medical residency programs and the Mount Carmel College of Nursing — one of Ohio's largest baccalaureate nursing degree programs.
Fact Sheet
MC Fitness & Health
Location: 7100 Graphics Way, Lewis Center, OH 43035
(Lewis Center is an unincorporated community of northwestern Orange Township.)
Size: Three levels, 130,000 gross square feet
Construction Start: September 2014
Planned Occupancy: October 2015
Client: Mount Carmel Health System, Columbus and Orange Township
Developer: NexCore Group LLC, Denver
Owner: The project is being financed and will be owned by NexCore Group.
Architect: OLC Architecture, Denver
Construction Manager: Elford Inc., Columbus
Property Manager: NexCore Properties LLC, Denver
Asset Manager: NexCore Properties LLC, Denver

NexCore Group LLC
1621 18th St., Suite 250
Denver, CO 80202
303.244.0700 t 303.244.0720 f nexcoregroup.com