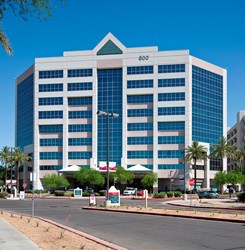 With the resurgence in the Arizona and California real estate markets, and with the continued growth in the healthcare sector, we are excited to invest in this portfolio.
San Francisco, Phoenix and Denver (PRWEB) October 25, 2013
NexCore Group LP, a national healthcare real estate firm, and Heitman LLC, a multi-national real estate investment management firm, announced today the acquisition of a ±671,811 square foot medical office portfolio in California and Arizona. Dignity Health occupies approximately 33 percent of the portfolio. Dignity is the fifth largest hospital system in the nation, with 39 hospitals in the three states of California, Arizona and Nevada.
"With the resurgence in the Arizona and California real estate markets, and with the continued growth in the healthcare sector, we are excited to invest in this portfolio," says Greg Venn, CEO of NexCore. "We will bring new capital improvements to the project and a new pride of ownership that reflects the quality tenancy in the buildings."
Strategic Portfolio Acquisition
The portfolio contains 13 medical office buildings — eight of which are located in southern California and five of which are located in Arizona around the Phoenix metropolitan area. Nine of the buildings reside on the campuses of Dignity Health hospitals, making them strategic real estate for the health system.
The medical office portfolio is generally located in high growth markets with a strong payer mix and high demand for medical procedures. Seventy-seven (77) percent of the portfolio is located in markets whose population growth over the next five years is expected to be above the national average with markets for five of the properties seeing double-digit population growth.
"This is a significant portfolio investment, and the resulting buyer was going to be one of Dignity Health's largest real estate managers," says Lee Asher, Senior Vice President of CBRE's U.S. Healthcare Capital who represented the Seller along with Chris Bodnar in the transaction.
"NexCore and Heitman were selected not only because we believed their existing relationship with Dignity Health would result in a smooth and seamless transition but also because it was important to select a buyer with extensive experience and expertise in managing physician office space. NexCore's comprehensive approach to medical asset ownership will undoubtedly benefit Dignity Health and enhance the system's delivery of outpatient clinical services."
NexCore-Heitman Joint Venture
With the purchase of the Dignity Health portfolio at $113.7 million, the NexCore-Heitman team has now completed a combined transaction volume of over $490 million.
"This strategic acquisition continues to broaden and strengthen our joint venture relationship with NexCore," says Brian Pieracci, Senior Vice President at Heitman. "The 13-building portfolio has all of the criteria that our joint venture team looks for when embarking on acquisition and development projects: hospital sponsorship, high-quality facilities, a diverse tenant mix and growing markets with strong demographics."
NexCore will provide operating and property management services for the portfolio under a long-term contract.
"We believe our team can provide significant value to this portfolio by strategically working with Dignity to attract and retain the physician groups and tenants that will add value to their brand and their positioning in the market," Mr. Venn adds. "We will strive to maintain the 13 facilities to the highest quality standards to reflect the Dignity brand."
About NexCore Group LP
NexCore Group was formed in 2004 to focus exclusively on the development, acquisition and management of healthcare real estate for health systems, hospitals and physician groups. Since that time, NexCore has grown into a 45-person company that has been recognized repeatedly as one of the Top Healthcare Real Estate Developers in the U.S. by Modern Healthcare magazine. NexCore provides a full spectrum of services that includes strategic and business planning, development, acquisition, ownership, financing, leasing, property management and asset management. The company's portfolio includes 3.8 million square feet of healthcare development and acquisition projects. The company is headquartered in Denver, Colo., and as the company continues to grow so does its geographic reach. Over the last several years, NexCore has opened regional offices in Chicago, Ill., Bethesda, Md., Portland, Ore., and Dallas, Texas, to expand its capacity across the country. For more information, please visit http://www.nexcoregroup.com. Contact: Tracy Hindman, Marketing Director, 303-244-0700.
About Heitman LLC
Heitman is a multi-national real estate investment management firm with approximately $27.1 billion in assets under management. Heitman is focused on three areas of real estate at the core of property and capital markets: Private Real Estate Equity (direct investments in property); Real Estate Securities (investments in publicly traded, listed securities, including REITs, REOCs and other real estate companies traded regionally and globally); and Real Estate Debt (direct investments in property secured by senior and mezzanine mortgage positions).
Fact Sheet
Acquisition Date: Oct. 24, 2013
Portfolio Size: 13 medical office buildings totaling ±671,811 rentable square feet
Portfolio Location: California and Arizona
Hospital Tenant: Dignity Health
Seller: LaSalle Investment Management, Chicago
Buyer: NexCore-Heitman Joint Venture, Chicago
Asset Manager: NexCore Properties LLC, Denver
California Medical Office Buildings:
Glendale Memorial Medical Office Building, ±36,959 rentable square feet
1500 S. Central Avenue
Glendale, CA 91204
Northridge I Medical Office Building, ±67,810 rentable square feet
18350 Roscoe Boulevard
Northridge, CA 91325
Northridge II Medical Office Building, ±40,999 rentable square feet
18546 Roscoe Boulevard
Northridge, CA 91324
Northridge III Medial Office Building, ±25,375 rentable square feet
18460 Roscoe Boulevard
Northridge, CA 91325
Mercy North Medical Office Building, ±38,621 rentable square feet
300 Old River Road
Bakersfield, CA 93311
Mercy South Medical Office Building, ±29,829 rentable square feet
500 Old River Road
Bakersfield, CA 93311
Marian Hancock Medical Office Building, ±33,283 rentable square feet
116 S. Palisade Drive
Santa Maria, CA 93454
Marian Medical Plaza, ±44,163 rentable square feet
525 E. Plaza Drive
Santa Maria, CA 93454
Arizona Medical Office Buildings:
Chandler Medical Office Building, ±43,376 rentable square feet
485 South Dobson Road
Chandler, AZ 85224
Gilbert Health Center, ±39,499 rentable square feet
1501 North Gilbert Road
Gilbert, AZ 85234
Ahwatukee Foothills Health Center, ±48,618 rentable square feet
4545 East Chandler Road
Phoenix, AZ 85048
Sun Lakes Health Center, ±40,768 rentable square feet
10440 East Riggs Road
Chandler, AZ 85248
McAuley Medical Center, ±168,511 rentable square feet
500 West Thomas Road
Phoenix, AZ 85013