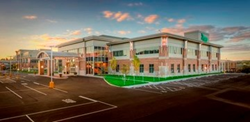 We are now able to prioritize orthopedics as a 'signature' healthcare service, which is allowing us to build market share and extend our brand.
VESTAL, N.Y., and DENVER (PRWEB) April 06, 2017
Denver-based NexCore Group LLC, a national healthcare real estate developer, and UHS Hospitals of Binghamton, N.Y, recently developed the two-story, 69,000 square foot UHS Orthopedic Center on the health system's outpatient campus in the fast-growing town of Vestal, which is located between the Susquehanna River and the Pennsylvania border, just west of Binghamton.
The comprehensive Orthopedic Center combines the latest innovations in healthcare with exceptional patient-centered care. Services include orthopedics, podiatry, chiropractic, rheumatology, physical therapy, sports medicine and X-ray services.
The adjacent three-story, 85,500 square foot UHS Vestal Physician Office Building provides primary care, a women's center, cardiology, imaging, a walk-in center, lab and pharmacy services.
The two medical facilities are on an 11.5-acre ambulatory campus that provides Vestal residents with access to integrated, high-demand services in one convenient, central location. The campus also includes a complementary parking lot with free valet parking services and regional bus transportation stop.
UHS officials say the new Orthopedic Center enables them to realize a long-term vision.
"We are now able to prioritize orthopedics as a 'signature' healthcare service, which is allowing us to build market share and extend our brand," says Matt Salanger, UHS President and CEO. "We also achieved our goals of creating a highly visible, integrated campus along Vestal Parkway, which is a high-growth retail corridor; recruiting a complementary mix of specialty providers; and fully integrating the new Orthopedic Center with the adjacent Vestal Physician Office Building."
Mr. Salanger added, "The new Orthopedic Center also helps us to build on the developing relationship with SUNY Binghamton University in our role of providing care to the university's athletic teams and other students. The Orthopedic Center is directly across the street from the university campus, which makes it easy for student-athletes and others to receive comprehensive care from our sports medicine experts and other specialists in a state-of-the-art facility close to where they live and train."
Joseph Cerra, Senior Vice President, Physician Practices, UHS Hospitals, and President and CEO of UHS Home Care, notes that the first project on the campus, the award-winning UHS Vestal Physician Office Building, quickly exceeded UHS's patient volume projections after opening in 2012. Now, the new Orthopedic Center is also on track to meet or exceed its volume goals.
"We were very pleased with the first building NexCore helped us develop on our Vestal campus, so when it was time to develop the second one, NexCore was our immediate first choice. Our relationship with them dates back about seven years, and we know that their goals and strategies are fully aligned with UHS."
Karen McElwee, UHS Director of Construction, noted, "We faced a number of significant challenges in developing the orthopedic center, including entitlement approvals and parking issues. In addition, the ground lease negotiations took longer than expected, and UHS was delayed in obtaining permission for site access for geotechnical test borings and pre-demolition environmental testing. On top of these roadblocks, State approvals of the schematic design and construction documents threatened the development timeline, and the project team needed to design a foundation to combat the soil's poor bearing capacity around the site.
"Yet, despite all of this, our team successfully completed the project on time and on schedule thanks in large part to NexCore's real estate expertise and development leadership."
Kim Prentice, NexCore's Senior Vice President, Design & Construction, added, "The development team had to deal with many challenges with the first clinic we built on campus, but we faced different challenges and obstacles with the second facility.
"Thanks to our long-term strategic relationship with UHS and the close alignment of our objectives, we were better equipped to expedite the approval process and overcome all the other obstacles for our client. We're proud that we successfully solved all of the issues as a team to create a full-service healthcare campus in a highly visible, accessible location that has excellent patient traffic and is meeting the needs of local residents."
NexCore provided development, project management and advisory services for the orthopedic center and also played a key role in the project's strategic planning, site analysis and regulatory approvals. The center is owned and 100 percent occupied by UHS Hospitals.
About UHS
UHS is a locally owned, not-for-profit, 916-bed hospital and health care system serving the Greater Binghamton region and the I-88 corridor. Founded in 1981, UHS provides a full range of medical, surgical, rehabilitative and long-term care services from more than 60 locations around New York's Southern Tier.
UHS exists for the purpose of improving the community's health and meeting its healthcare needs. In a real sense, UHS belongs to the community. The board of directors of UHS and its member organizations serve as trustees of the system's health resources. UHS was established as a not-for-profit organization in recognition of its community benefit role and its obligation to return health, social and economic benefits to the community. For more information, please visit http://www.uhs.net.
About NexCore Group LLC
NexCore Group develops healthcare facilities for hospitals, health systems and physicians. We solve complex real estate challenges through innovative building solutions and creative financial structures. In a rapidly changing healthcare industry, NexCore has the superior expertise to deliver quality environments and flexible spaces that help grow business, lower expenses and mitigate risk. Over the past 25 years, NexCore has developed and acquired a total of 7.1 million square feet of healthcare facilities across the country. Our company has been recognized repeatedly as one of the Top Healthcare Real Estate Developers in the U.S. by Modern Healthcare magazine. NexCore is headquartered in Denver, Colorado, and as the company continues to grow so does its geographic reach. Over the last several years, NexCore has opened regional offices in Chicago; Bethesda, Md.; Portland, Ore.; Dallas; Orlando, Fla; and Laguna Niguel, Calif. For more information, please visit http://www.nexcoregroup.com. Contact: Tracy Hindman, Marketing Director, 303-293-0673.
Fact Sheet
UHS Orthopedic Center
Location: 4433 Vestal Parkway, Vestal, N.Y. 13850
Size: Two stories, 69,000 square feet on 4.7 acres
Construction Start: May 2015
Construction Completion: August 2016
Client: UHS Hospitals, Binghamton, N.Y.
Developer and Project Manager: NexCore Group LLC, Denver
Owner: UHS Hospitals, Binghamton, N.Y.
Architect: Chianis + Anderson Architects, Binghamton, N.Y.
Construction Manager: LeChase Construction Services, Rochester and Binghamton, N.Y.