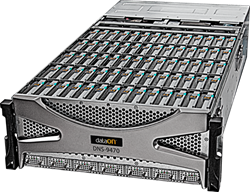 The NX-9470 offers data center and big data customers a massively scalable storage solution.
Anaheim, CA (PRWEB) August 26, 2013
Area Data Systems, Inc., the storage architecture authority for enterprise data solutions, announces the first certified Cluster-in-a-Box (CiB) storage platform for Nexenta Systems, the leader in Software-defined Storage. This groundbreaking platform leverages the HA Cluster feature provided in NexentaStor to introduce dual-node clustering with shared hybrid storage, while eliminating the potential of a single point of failure.
As a Nexenta Premium Partner, Area Data Systems can now deploy highly available ready to run out-of-the-box NexentaStor deployments, up to 280TB, with the ease of a turnkey appliance. The CiB groundbreaking ability to condense the typical HA cluster server footprint while delivering massive shared storage offers a huge advantage for IT administrators seeking to scale more intelligently and efficiently, while driving down the total cost of ownership.
Currently available for immediate delivery, Area Data Systems offers the CiB in two models—NX-9220 and NX-9470. Each version is a completely contained clustered shared storage solution in a single chassis. Both models feature NexentaStor in an HA-cluster consisting of two individual dual-socket Intel® Xeon® server nodes located side-by-side within a single enclosure. In addition, there is a shared storage pool of hybrid storage drives—available for auto-tiering or flash-based auto-caching. Should one of the two cluster nodes fail, the system will failover automatically to the other node thus minimizing unplanned downtime and protect business continuity. Based on industry standard and commodity components, the CiB platform provides unparalleled space-saving density along with ease of deployment by exploiting a modular design and removes the time consuming need for pesky cabling.
"Utilizing the unified storage capabilities of NexentaStor, the NX-9470 offers data center and big data customers a massively scalable storage solution with virtually unlimited number of snapshots, flexibility, and high granularity of data protection," explains Nexenta CMO Bridget Warwick. "We see the Cluster-in-a-Box as an innovative design and are looking forward to more platform advancements in the future by our many partners, including Area Data Systems."
The CiB platform is capable of utilizing both hard drives (HDD) and solid state disks (SSD) to create a hybrid storage ready platform. The NX-9220 is a 12-bay dual-node model that utilizes the high availability and resiliency of NexentaStor to furnish a plug-and-play unified storage solution for small to mid-sized businesses and remote branch office deployments.
The NX-9470 provides unmatched storage density by housing 70 SAS devices—280TB in only 4U of rack space. This progressive one of a kind offering increases data center storage density efficiency by requiring 75% less rack space than the traditional high availability clustered scale-out file storage offerings and provides a power savings of more than 30%.
"There's been a lot of talk lately about offering a petabyte of storage, but many shared storage and legacy SAN designs are cumbersome to configure and underutilize valuable data center space," says William Huang, President of Area Data Systems. "The NX-9470 is an easy to deploy cableless design that delivers an instant 280TB of highly available capacity using NexentaStor which can enable up to 3PB (petabytes) of capacity in a standard rackmount cabinet, how's that for density?"
About Area Data Systems:
Founded in 1987, Area Data Systems has established a 25-year track record of success built on the ability to deliver its clients with efficient, cost effective, reliable and scalable storage. Area Data Systems partners with worldwide tier one manufacturers such as; LSI, STEC, Mellanox, Software-defined Storage providers and OS-agnostic storage enclosures from DataON Storage to design best-of-breed Cloud and Big Data storage solutions without proprietary vendor lock-in. More information about Area Data Systems can be found at Areasys.com or call +1 (714) 993.0300.
About Nexenta Systems
Nexenta Systems is the world leader in Software-Defined Storage. Its flagship software platform, NexentaStor, delivers high-performance, ultra-scalable, cloud- and virtualization-optimized storage solutions. Built upon ZFS technology and running on a broad choice of industry-standard hardware, NexentaStor eliminates vendor lock-in and provides open, unified storage management at significantly less cost than legacy systems. More information about Nexenta Systems, and free trials of the ZFS-based NexentaStor, can be found at http://www.nexenta.com.