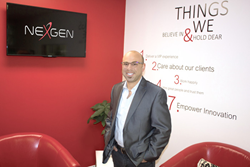 Deerfield Beach, Florida (PRWEB) August 26, 2015
NexGen Agency a global provider of integrated contact center solutions and social media management services specializing in customized, client-specific campaigns, announced today the launch of their state-of-the-art Social Contact and Command Center in Manila, Philippines; NexGen BPO Philippines. This location will provide outsourced customer service, lead generation, specialized research, chat and email support, social media management and other business process outsourcing services.
NexGen Agency's CEO Mike Epstein stated "The Philippines has always been an extremely important location for us. As a worldwide provider, it is imperative we focus on growth in this region capitalizing on the large pool of skilled talent. Customers expect exceptional service and instant response, 24X7, across all communication channels. Our multi-lingual and multi-channel offshore network plays an important role in delivering innovative, low-cost solutions to our clients."
About NexGen Agency
NexGen is a full service customer experience management organization that focuses on cross platform support and authentic social and customer experiences.
For over 20 years, The NexGen Agency team has helped the world's most successful companies design, build, implement and manage VIP experiences. NexGen offers a full range of customer experience management solutions including inbound and outbound contact center customer lifecycle management, social media real-time monitoring, engagement and management, lead generation, and specialized research in all industries including the federal government. NexGen's founder and management team are considered experts and pioneers in the industry having successfully grown world-class BPO organizations over the past several decades.