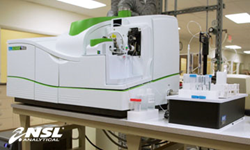 NSL is dedicated to quality results and quick turnaround to meet tight deadlines for our customers, says Larry Somrack, president, "This new technology helps us do just that.
Cleveland, Ohio (PRWEB) February 08, 2017
NSL Analytical Services, Inc. a recognized leader in analytical and metallurgical testing announced that they have acquired a PerkinElmer NexION ICP-MS for the lab, utilizing the newest technology available.
With the PerkinElmer NexION 350 ICP-MS, NSL is able to analyze virtually any sample with fast and accurate trace element results. The new ICP-MS is designed with three modes of operation (Standard, Collision Cell and Reaction Cell Technology) for greater flexibility and optimum performance.
Features and benefits include:

Increased sensitivity allows for lower detection limits
Increased resolution allows for less interferences and higher accuracy
Uses the ESI FAST system auto sampler for clean and efficient sample analysis
A full scan of 68 elements for those samples that need it
NSL's highly experienced ICP-MS chemists are available to interpret and discuss your results
"NSL Analytical is dedicated to quality results and quick turnaround to meet tight deadlines for trace elemental analysis of our customers", says Larry Somrack, President, "This new technology helps us do just that."
As an independent material testing lab for aerospace, ceramic, nuclear, refractory, and metalworking industries, NSL's chemistry testing services include elemental analysis of sample materials with composition levels of parts per billion (ppb) to 99.99+% concentration levels. Our chemistry analysis services are used to provide customers with independent verification of materials, certification of raw materials and support in failure analysis. NSL Analytical has capabilities to perform analysis of rare earths, metals, halogens, gaseous elements, precious metals, refractories and organic compounds with the latest analytical techniques and classic wet chemical analyses.
About NSL Analytical Services, Inc.
A recognized leader in analytical testing, NSL Analytical Services, Inc. is an Independent Materials Testing Laboratory specializing in Inorganic Elemental Chemical Analysis, Metallurgical and Microscopy Evaluations, Failure Analysis and Polymer Materials Testing. NSL Analytical helps customers achieve the highest standards of product quality from design to launch by providing accurate, reliable and repeatable materials testing results. For more information, visit http://www.nslanalytical.com.