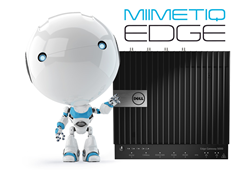 Barcelona, Spain (PRWEB UK) 14 March 2017
BARCELONA, Spain (March 8th 2017) – NEXIONA will use its presence at Smart IoT London 2017 (March 15 and 16) to announce availability of a new star product: MIIMETIQ EDGE, the all-in-one IoT solution for small and mid-size projects and very flexible IoT edge device for data collection, analysis and action.
MIIMETIQ EDGE consists of the most powerful IoT Gateway on the market: the DELL EDGE GATEWAY 5000, designed to aggregate, secure and relay data from a wide variety of sensors and equipment, used in conjunction with MIIMETIQ LITE, NEXIONA's lightweight IoT Platform.
MIIMETIQ EDGE has everything necessary for an IoT Proof of Concept or a small IoT project, extracting data from any device, displaying in dashboards and, critically, the ability to apply a level of analysis to apply local Rules & Actions to generate local alarms and filter data so that only meaningful information is passed to the data center or cloud platform.
Highly secure MIIMETIQ software and the rock-solid robustness and reliability offered by the DELL EDGE GATEWAY 5000 combined with the ability to integrate with any type of cloud platform, including IBM Bluemix and Microsoft Azure, or run in standalone mode, with expansion possibilities using Fog Computing, means that MIIMETIQ EDGE can be used in a wide variety of Industrial IoT situations and makes it a very flexible building block in any IoT system design.
MIIMETIQ EDGE truly delivers on the promise of the Industrial IoT revolution; delivering productivity, efficiency, and optimization of business operations that far exceed today's simple monitoring and process control systems.
Following intense interest at the recent Mobile World Congress Barcelona, NEXIONA has secured a good stock of MIIMETIQ EDGE and made it available through Tech Data for its channel partners worldwide. Promotional activities continue throughout the year at major global technology events such as Smart IoT London and CeBIT.
ABOUT NEXIONA
NEXIONA is a software manufacturer based in Barcelona (Spain) with an office in Oxford (UK). NEXIONA creates software tools for system integrators to connect, compose, control and integrate any type of hardware and software to build private IoT platforms (deployed on cloud or on premise).
MIIMETIQ is the IoT technology developed by NEXIONA. Diverse clients such as Arqiva, Ricoh, IBM, Hipra and Delphi enjoy its flexibility, scalability and security. With an existing, and growing, bank of 120 communication protocols MIIMETIQ has the ability to integrate with any type of device or business system via any network. MIIMETIQ thus solves one of the fundamental obstacles encountered by many system integrators; the requirement to connect to a wide variety of 'things', collect data from them and use this in meaningful ways to improve business outcomes.
For more information visit http://www.nexiona.com or follow us on Twitter.