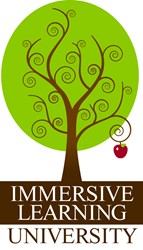 We are very excited to be working with Dr Quinn on this free and informative webinar! Everyone who signs up will definitely learn something new. --Curt Renard, NexLearn
Wichita, KS (PRWEB) August 24, 2013
NexLearn Partners with Dr. Clark Quinn for Immersive Learning Webinar
NexLearn announced today that industry thought leader and Immersive Learning University keynote speaker Dr. Clark Quinn will present the August edition of the NexLearn Immersive Learning Webinar Series. Join us on August 29, 2013 at 1:00pm CST for the free webinar entitled—"Beyond Cognitive: Emotion and Deeper Learning."
We (should) know that effective learning includes activating relevant knowledge, providing appropriate information, and providing sufficient practice. However, while that's necessary, it's not sufficient; we also have to address the affective components in learning, addressing motivation and anxiety. In this webinar, we'll review the non-cognitive components of learning and align them with the known elements, covering: emotionally opening up the learner in the introduction, making examples that naturally align with the way we understand the world, and closing off the learning experience in meaningful ways. Learn how to make the rest of your learning as effective and engaging as your practice.
Visit this link https://attendee.gotowebinar.com/register/4752924136802777856 to register.
"We are very excited to be working with Dr Quinn on this free and informative webinar! Everyone who signs up will definitely learn something new." says Curt Renard of NexLearn.
About Clark Quinn
Clark Quinn, Ph.D., has been helping organizations deliver strategic learning technology solutions for over three decades. Clark combines a deep background in the learning sciences with broad experience in technology applications, which he applies to the corporate, government, education, and not-for-profit sectors. Dr. Clark Quinn is the author of Engaging Learning: Designing e-Learning Simulation Games, as well as two books on mobile learning. He supports learning experience architecture through Quinnovation, and organizational learning strategy as a principal in the Internet Time Alliance.
About NexLearn
NexLearn is a custom education courseware developer with extensive expertise in creating immersive learning simulations. The company's experienced, award-winning team has introduced some of the most innovative courses, tools and technology to the e-Learning industry, including the award-winning SimWriter immersive learning simulation authoring tool. For more information about NexLearn and SimWriter, visit the NexLearn Web site: http://www.nexlearn.com.