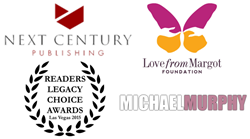 With Mike on the team, NCP and Readers Legacy Inc. are sure to succeed in their mission to Change the Way People Write, Read & Experience books.
Las Vegas, NV (PRWEB) October 17, 2014
"We first met Mike Murphy in the early spring of 2014 when he began to inquire about publishing his now released best-selling book Love Unfiltered (http://amzn.to/1wKJy5k) with our company. From our first interaction, I was impressed with Mike's experience in scaling significant businesses, his focus on building the Love From Margot Foundation and his philanthropic nature. I have had the pleasure to meet very few people of Mike's character. As we worked through the details on the release of his book, I was pleased to see many confirmations of his character and success. I also saw Mike's excitement for the publishing industry, writing books and giving to people", says Ken Dunn, CEO & Founder of Readers Legacy Inc & Next Century Publishing. "Our company is growing extremely fast and experiencing many of the challenges that occur in this high-growth state. I knew we would need to attract additional resources for the company, and further experience to the board, to ensure we stay on track. I also realized that I would personally be well served by another partner who could pour additional knowledge and guidance into me as I lead the companies; In Mike, we have been blessed with all of it. We are also excited to announce our affiliation with the Love From Margot Foundation (http://www.LoveFromMargot.com). Going forward we will be donating 25 cents from every book we sell to help the foundation in its mission to better the lives of women battling breast cancer and give them a fighting chance. With Mike joining Orrin Woodward (http://www.OrrinWoodward.com), Chris Brady (http://www.ChrisBrady.com), Rod Larrivee, and myself, the Board of Directors now has the depth and experience equal to any fortune 500 company. With Mike on the team, NCP and Readers Legacy Inc are sure to succeed in their mission to Change the Way People Write, Read & Experience books."
"I have been blessed with many experiences and successes in my life. My greatest blessing was the gift of Love I found in my wife Margot. When she was diagnosed with Breast Cancer, it changed me forever. For 9 years, through her battle, Margot taught me how to love, to give and to serve others. When she passed I was overwhelmed by the desire to help as many women as I can who are battling this horrific disease. That's why I founded Love From Margot. 100% of the proceeds from my book Love Unfiltered and my 2015 release Living In Color will be donated to the Foundation. My life's work is to help people to discover how they can manifest anything they desire", explains Mike Murphy. "I am excited to be joining the team at Readers Legacy Inc and Next Century Publishing; I have been thoroughly impressed with Ken and his team. My book reaching best-seller status was confirmation that they know what they are doing. I come into this with my eyes wide open; NCP is a new company and is working through typical challenges. I see myself as a business coach to Ken, a sounding board for the team and a great liaison for our many client authors and book lovers. With the upcoming launch of the world premiere online virtualization of the home library and author marketing support system contained in http://www.ReadersLegacy.com, NCP needs all the help they can get and I am proud to be joining the team."
About Mike Murphy:
Michael Murphy is the founder of the Love from Margot foundation in Oakland, California, which he created in 2012 in memory of his wife, Margot, to help those suffering from cancer and other life-threatening diseases. He funds the foundation through his work as president of the Volkswagen of Oakland, his job for the past seventeen years. He is a professional author, blogger, and speaker whose true passion in life is to serve and inspire others to serve. Mike has four beautiful children, and three amazing grandchildren. He loves to spend time with the clients of the foundation, practice bikram yoga, and travel.
Be Honest, Fear Nothing, Love Deeply, Laugh Often
About Next Century Publishing & Readers Legacy Inc:
Next Century Publishing (http://www.NextCenturyPublishing.com) is a wholly owned subsidiary of Readers Legacy Inc. NCP has seen tremendous growth in the past 2 years, scaling from 30 books published in 2012 to over 300 books published by Q4, 2014. Next Century differentiates itself by offering authors the chance to retain the rights to their works, while offering them the chance to compete with the traditional trade-publishing crowd. Next Century has been recognized for some of the most innovative author marketing solutions and penetration into the traditional book-selling world. NCP is not solely a self-publisher or a traditional publisher, but rather a hybrid publisher. Several innovations over the next 12 months will bring greater awareness to Next Century and Readers Legacy, along with tremendous overall growth.
Readers Legacy Choice Awards & Writers Conference – Feb 13-15th, 2015:
From February 13-15, 2015, Next Century Publishing will host its 1st Annual Readers Legacy Choice Awards and Writers Conference at the JW Marriott Resort in Las Vegas, Nevada. At this unique event, NCP will recognize the company's top authors, and more importantly, future authors will gather to learn how to create the best book and marketing plans from elite level authors and editors. The company will also launch a much anticipated, next generation online community dedicated to changing the way that people write, read and experience books.
Some confirmed keynote speakers include: NY Times bestselling author Nicholas Boothman, author of the internationally recognized book, How to Make People Like You In 90 Seconds or Less (http://www.NicholasBoothman.com); NY Times bestselling author Steve Alten, author of several international fiction thrillers including: Meg—the story of a 60 ton pre-historic ancestor to the great white shark that was discovered in The Mariana Trench—and The Loch (http://www.SteveAlten.com); International bestselling author and speaker Elizabeth McCormick, author of Pilot Method (http://www.PilotMethod.com); and Larry Benet, internationally renowned speaker, thought leader and connector (http://www.LarryBenet.com). Larry is the CEO and founder of S.A.N.G, one of the world's most successful forums for speakers and authors. Now confirmed for a keynote speech and presentation: Bestselling author & International Elite Level Business Consultant Dan Waldschmidt. Dan is the author of Edgy Conversations & principal of Waldschmidt Partners whose clients include Fortune 100 companies and Federal Governments. Amazon Best-selling author of Love Unfiltered, Multi-millionaire philanthropist, Founder of The Love From Margot Foundation and President/Founder of VW of Oakland and several other US based businesses Mike Murphy. After loosing his wife Margot to a 9 year battle with Breast Cancer, Mike dedicated his life to helping women struggling with this fight and helping people to 'break-through through manifesting the things they desire'.
Tickets for the Readers Legacy Choice Awards and Writers Conference go on sale on October 1st. Check out http://readerslegacychoiceawards.com/ for more details.
Media Contact:
Shannon Lutz, Next Century Publishing
(702)912-2405, Shannon(at)NextCenturyPublishing(dot)com