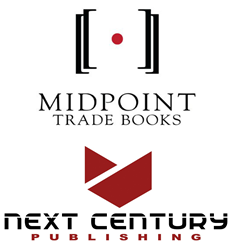 NCP truly is redefining the publishing industry and we're looking forward to being their distributor now, and in the years to come.
(PRWEB) December 16, 2014
Next Century Publishing and its affiliates are dedicated to changing the publishing industry as it is known today. Though a relatively young presence in the industry, the company is, regardless, a force to be reckoned with. One way that NCP has distinguished itself from all other publishers is that it offers both independent publishing and full- royalty publishing under the same label. Its rapid growth has lead the company to search for a distributor; Midpoint Trade Books has proven to be the perfect match.
Says NCP and Rebel Press CEO Ken Dunn, "Readers legacy Inc., and our imprints, have experienced dramatic growth over the past 18 months and the demand for our books has increased the same. As a new player in the publishing space we realized that we needed to align with a partner that could help to extend the reach of our books. We spent 11 months investigating and interviewing distributors in the publishing industry and are excited about our decision to partner with Midpoint Trade. [CEO Eric Campman] and his team have decades of experience in every facet of book distribution and are a good partner for our company."
Midpoint Trade Books is surely a distinguished match for NCP. Representing 275 independent publishers throughout the U.S., Canada, U.K., and Australia, the company has a long history of exceptional work. Says Eric Campman, founder and CEO of Midpoint Trade of the partnership: "Next Century Publishing, Obstacles Press and Rebel Press' books are impeccable and touch many genres; We are excited to have them with us! NCP truly is redefining the publishing industry and we're looking forward to being their distributor now, and in the years to come." NCP begins to distribute through Midpoint Trade effective immediately, and both companies are excited about the potential of this partnership.
Next Century Publishing
Next Century Publishing is a world leader in book publishing, book marketing, and providing authors with the best platforms for success. NCP is a cutting-edge publisher that refuses to accept the status quo. The game has changed, and today's authors have more choices than ever. NCP utilizes the latest in social media and technology to increase readership, book sales, and bottom-line profits for its authors. The company is truly unique in that both independent publishing and full-royalty publishing are offered under one label.
NCP is already being recognized for its innovations in marketing, social media, and media awareness. The company is the first publisher to offer an incredibly lucrative affiliate program in the publishing industry, and is launching several web-based campaigns aimed at disrupting and reinventing the mammoth publishing world, while bringing greater value to its authors.
Midpoint Trade Books
Midpoint Trade Books is a full service book distribution company. Midpoint was founded in 1996 by a group of industry professionals, including current President Eric Kampmann and Executive Vice President Chris Bell. Located in the Flatiron District of New York City, the company represents independent publishers across the United States, United Kingdom, and Canada.Today, Midpoint retains the same entrepreneurial spirit with which the company was founded, employing a team dedicated, innovative, and experienced industry professionals.