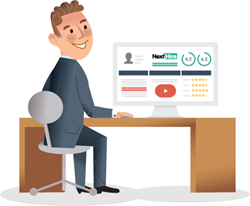 We wanted to find a better way to hire, so we invented it.
Boston, MA (PRWEB) January 20, 2014
Disruptive recruiting firm NextHire today announced the launch of its full service, flat-fee recruiting solution. Targeted specifically for small- and medium-size businesses, NextHire bridges the gap between overpriced recruiting services and inefficient do-it-yourself hiring. By combining the efficiencies of the latest digital hiring tools with the service of a dedicated account rep, NextHire cuts employer costs and hands-on involvement by an average of over 75 percent.
According to NextHire CEO Bob Myhal, the Company was started by a group of passionate small business owners who know how important it is to hire great people. "But we were consistently frustrated by the choice between time-sucking hiring processes and expensive recruiting fees," explained Myhal. "We wanted to find a better way to hire, so we invented it."
The cost of poor hiring is high. The Harvard Business Review estimates that as much as 80 percent of employee turnover is due to bad hiring decisions. Beyond frustrating, this failure can cost the typical small business hundreds of thousands of dollars annually.
For a low fixed-fee, NextHire provides clients with a complete outsourced recruiting solution that can greatly increase hiring performance. From defining hiring needs to drafting job postings, gathering credentials, scoring candidates, arranging video interviews, validating assessments, and more—NextHire provides cutting-edge recruiting services without the high cost.
Myhal identifies the key to NextHire's recruiting service as the seamless marriage of innovative technology and the attentive client service of a dedicated account manager. He noted, "Recently there's been an explosion in exceptional digital hiring tools and technologies. But these technologies can be fragmented, difficult to learn and expensive for small business owners. At NextHire we pull together and leverage these tools for our clients. The result is an efficient and effective hiring process."
NextHire has tested their process in over ten beta searches, successfully finding impressive candidates all the way from an administrative assistant to a CEO. James Gill, Managing Partner of Launch Angels, is one satisfied customer. Gill notes, "I ended up with several great candidates and two real superstars. This was the most efficient and productive candidate search and selection process I've yet experienced."
ABOUT NEXTHIRE.BIZ
NextHire gives small- and medium-size businesses an easy and affordable way to find and hire the best talent. NextHire enables SMBs to save time and money with a fast, effective and clearly defined hiring process. To learn more, please visit http://nexthire.biz.