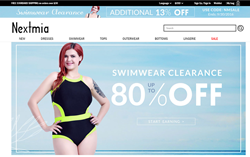 Stock up on swimwear at incredibly low prices
Shenzhen, China (PRWEB) September 06, 2016
Nextmia is a safe haven for young and independent women looking for plus sized fashion. The site offers a wide range of products from dresses, swimwear, outerwear, bottoms, tops, and lingerie. The company has been able to grow and expand rapidly over the last year through aggressive sales and marketing. The company only sells high quality products and offers them at affordable prices. With fall approaching and new inventory coming in Nextmia is looking to get rid of the summer inventory. Today the company is proud to announce the Swimwear Clearance Sale. This sale is great for customers looking to get extremely cheap and fashionable swimwear for next summer.
The Swimwear Clearance Sale is now active and will be running until a majority of swimwear is sold out. Customers are encouraged to take advantage of the deals before they are gone. As a clearance sale there will be no restocking of products once they are gone. Products will be as low as 80% off during the Swimwear Clearance Sale.
There is a style available for everyone and their comfort level. Traditional bikinis are the hottest product going right now, but Nextmia also offers tankinis that cover the whole upper body, one pieces that cover everything, and swimdresses for those who want to look fashionable when near the waters.
Nextmia is looking to give new customers even more incentive to shop. The company is now giving incentive to sign up now. Customers who sign up now will get 10% off their first purchase, combine this with the Swimmer Clearance sale and customers are looking at up to 90% of their first purchase. Old customers can also get in on the discounts by using clearance codes. Clearance codes are available at the top of the Nextmia website and the company is currently offering up to 13% off. That's up to 93% when shopping the Swimwear Clearance Sale.
Customers who need help making their purchase or have any issues (even after the product is shipped) are welcomed to contact Nextmia directly, the company strives on making sure every customer is left happy. To get in contact head over to the Nextmia website and click the "Contact Us" page. Support staff will get back to any inquiries within 48 business hours.
Related link: http://www.nextmia.com/
Email: support(at)nextmia.com