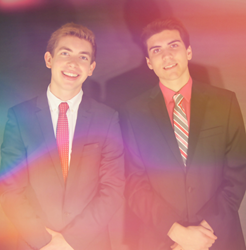 It's Friday night and time to Let-Cha Body Go!
Covington, LA (PRWEB) March 17, 2014
The next version of Rebecca Black has just surfaced on the Internet, however this time it's two young guys. Gordon Bailey and Matthew Snitzer, aka The Party Starters, are two 17-year-old Covington, Louisiana teens who have written a song entitled Let-Cha Body Go. Their song was released to various digital music stores including iTunes, Google Play, Amazon MP3 in January of this year.
On Monday, February 17th they released their music video to go along with their new song. In less than one week, they have amassed over 35,000 views and counting. The view count is not the only thing that keeps climbing - comments have poured in from various people around the world, comparing them to the 'one hit wonder' Rebecca Black for her song "It's Friday."
Gordon and Matt didn't set out to be the male version of Rebecca Black, but they say, "If you put yourself out there you have to be willing to take the good with the bad."
These two teens might be the next Rebecca Black.