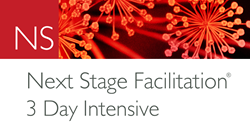 'Integral Facilitator offers a set of development learning experiences, tools and tactics designed to help facilitative leaders enact the next stage of facilitation.' - Diane Hamilton
Whistler, BC (PRWEB) July 06, 2015
The Next Stage Facilitation is an innovative new program for coaches, consultants, group process professionals, and change makers who want to engage groups skilfully and deeply, cultivate a deeper self-awareness, and strengthen the ability to navigate differing personal and cultural perspectives with ease.
This facilitative leadership program goes beyond traditional facilitation training by introducing participants to the next stage of facilitation using the Integral Map, Zen Awarenesses, and subtle group energetics.
Participants will come away with new awareness and new perspectives on group facilitation and will be better equipped to tackle the practical challenges in human collaboration.
This Next Stage Facilitation session is also a lead-in for the premiere nine-month competency-based Integral Facilitator Certificate Program.
For more information or to register for the three-day Next Stage Facilitation Intensive in Whistler, go to: http://bit.ly/NSFWhistler