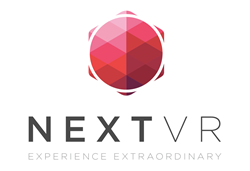 LAGUNA BEACH, Calif. (PRWEB) September 03, 2014
NextVR, a pioneer in immersive, high-definition virtual reality technology for live and recorded experiences, today announced their strategic relationship with Samsung and Oculus. NextVR is supplying its ultra high-definition, three-dimensional virtual reality technology and content to bring "like being there" 360-degree video to Samsung's Gear VR headset, which is being introduced at IFA in Berlin this week.
NextVR's patented video capture technology introduces a new medium through which users can experience entertainment in virtual reality, including sporting events, concerts and travel destinations. The technology is the first solution to enable life-like viewing experiences – using both live and recorded content – streamed via current home and mobile Internet connection speeds. NextVR is partnering with several providers to record high-definition content to demonstrate the capabilities of its technology. The technology has the ability to enhance both live and recorded content using CGI and other visual effects to create a virtual experience that is actually better than the first-hand experience.
"Our technology is changing the way consumers experience their favorite music, sporting events, travel destinations and more," said David Cole, co-founder of NextVR. "The patent-pending technology captures a precise 360-degree environment in unparalleled detail. This puts viewers right in the action, whether that's experiencing a courtside seat at a basketball game or standing stage side at the hottest concert in town. When you put on a headset for the first time, you instantly understand the meaning of 'seeing is believing.'"
Founded by virtual reality and entertainment industry veterans David Cole and DJ Roller, NextVR will initially focus on live and recorded sporting events, concerts and life-like nature experiences but will continue to expand into other areas as the company secures additional relationships with networks, motion picture studios and content providers. In addition to Samsung, NextVR also works with Oculus and their Oculus Rift product that is one of the early leaders in delivering virtual reality experiences. NextVR is also working with other headset and content providers to enable virtual reality experiences for consumers as the market continues to expand.
NextVR recently received its initial $5 million in funding from private investors in Hong Kong, China and the US. The company has an extensive IP portfolio with more than seventeen patents either granted or pending.
About NextVR
NextVR is a pioneer in delivering premium content for immersive, high-definition, live or recorded virtual reality experiences. Viewers are transported into near life-like experiences, such as a concert or sporting event, with a complete 360-degree, three-dimensional view. Launched in 2009, NextVR has a deep IP portfolio with more than seventeen patents granted and pending for the capture, compression, transmission, and display of virtual reality content. NextVR delivers the most life-like viewing experience possible, and allows content to be streamed with pristine quality using current home and mobile Internet connection speeds. Founded by veterans in stereoscopic imaging technology, software development and film, NextVR is creating a new entertainment medium for the 21st century.