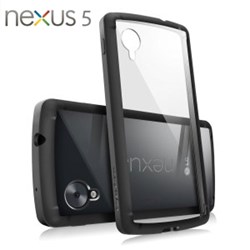 Nexus 5 Cases from big names like Cruzerlite and Rearth.
Birmingham, UK (PRWEB UK) 24 October 2013
As the much rumoured Nexus 5 is set to be announced by Google, Mobile Fun, one of the UK's leading online retailers of mobile phone and tablet accessories, are so sure that the rumours are true; they have already launched a range of specially designed Nexus 5 cases and they are ready to pre-order today.
Included in their growing range are cases from some big manufacturers and some new versions of some classic cases from earlier models and handsets. Last year's hugely popular Rearth Rinke Fusion Case returns with the clear back plate and protective bumper styling's but redesigned around the Nexus 5. You'll also find a range of TPU cases from Cruzerlite in various designs and colours.
The Armourdillo cases are also ready to pre order in the range. These cases are of a dual layered case design with a polycarbonate exoskeleton and a silicone inner case. The Armourdillo cases are made with protection in mind, able to take the stresses and strains of the modern world. Available in black, purple, blue and green.
Cases in the range will start arriving instock with in the next 10-14 days.