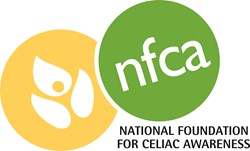 Ambler, PA (PRWEB) October 14, 2013
The National Foundation for Celiac Awareness (NFCA) has announced the addition of five new members to the organization's Board of Directors. These accomplished business professionals will help to advance NFCA's mission and strategy in serving the millions of Americans affected by celiac disease and other gluten-related disorders.
Celiac disease affects an estimated 1 in 133 Americans, 83% of whom are still undiagnosed. The disease causes debilitating symptoms, and if left untreated, can lead to serious long-term health problems like infertility and some types of cancer.
NFCA is a leading source of free patient resources and industry training programs that not only help people get diagnosed, but also ensures they restore health and reclaim their lives after diagnosis.
NFCA welcomes the following new Board Members:
Gerald Bertiger, MD
Dr. Gerald Bertiger is a board-certified gastroenterologist in private practice at Hillmont, G.I. He treats all gastrointestinal diseases, and his special interests are in the evaluation and treatment of esophageal diseases and motility disorders.
Dr. Bertiger received his undergraduate degree from the University of Pennsylvania, and attended Hahnemann Medical College. His internship and residency in Internal Medicine were performed at the Medical College of Virginia Hospital, and he completed his fellowship in Gastroenterology at the Hospital of the University of Pennsylvania. Dr. Bertiger remained on staff at the University of Pennsylvania prior to becoming an attending physician at Chestnut Hill Hospital in 1986. He has served as the Chief of Gastroenterology and Head of the Endoscopy Unit at CHH since 1995. He is on the staff of Chestnut Hill Hospital and Lansdale Hospital Abington Health, and is board certified in Internal Medicine and Gastroenterology.
John C. Grugan
John C. Grugan is a Partner at Ballard Spahr LLP. He advises clients during investigations and litigations conducted by the U.S. Securities and Exchange Commission, the U.S. Department of Justice, self-regulatory organizations, and state securities regulators. Mr. Grugan has substantial experience directing internal investigations on behalf of companies, their boards of directors, or committees of those boards on matters ranging from highly publicized claims of misconduct to sensitive and confidential cases. He is also the past-president of the Neighborhood Club of Bala Cynwyd.
Mr. Grugan received his bachelor's degree from the University of Pennsylvania and graduated cum laude from Temple University James E. Beasley School of Law. There, he served as Editor-in-Chief of Temple Law Review.
Jay Silverstein
Jay Silverstein is a 25-year veteran of the US health industry, and has developed a reputation as one of the industry's leading thinkers, both creatively and strategically. He is recognized for his common sense approach, his wit, and his passion for connecting with consumers. Most recently, Mr. Silverstein was SVP, Chief Branding Officer for Medco Health Solutions, where he led all external communications (advertising, social media, public relations) as well as consumer engagement and creative uses of web and database marketing to inspire and engage Medco's 65 million members.
Mr. Silverstein received his Bachelor of Arts degree from Harvard College in 1981. He has served as a creative advisor to many leading companies across various industries, and currently advises several start-ups. He participated with the Harvard Health Action Committee, and was a contributor to Clay Christenson's book on health, The Innovator's Prescription.
Wendi L. Wasik
Wendi L. Wasik is an accomplished Executive Coach and Organizational Development consultant. She has provided services to senior level executives and to organizations ranging from entrepreneurial firms to multinational companies across a broad spectrum of industries. Ms. Wasik is also a keynote speaker for corporate events and professional women's associations.
Ms. Wasik received a bachelor's degree from Rosemont College and a master's degree in Organizational Dynamics from the University of Pennsylvania. She presently serves as an Advisor for The Wharton School's Small Business Development Center, advising undergraduate and MBA students on client casework.
Vittoria Zaslavsky
Vittoria Zaslavsky is Senior Vice President of Citibank Commercial Banking Group. Ms. Zaslavsky has been an award winning top Commercial Banker for over 19 years. She has been with Citibank in the Commercial Banking Group since 2007 and continues to be recognized as a top performing Commercial Banker and Relationship Manager.
Prior to that, Ms. Zaslavsky ran a successful pharmacy with her husband Stan for many years. Having owned her own business, she truly understands the needs of a business owner. After watching her daughter suffer years of discomfort due to undiagnosed celiac disease, Ms. Zaslavsky joined NFCA to help support the organization's mission to increase diagnoses of celiac disease and other gluten-related disorders.
About the National Foundation for Celiac Awareness
The National Foundation for Celiac Awareness (NFCA) is a 501(c)(3) non-profit organization that drives diagnoses of celiac disease and other gluten-related disorders and improves the quality of life for those on a lifelong gluten-free diet. For more information, visit http://www.CeliacCentral.org.
###