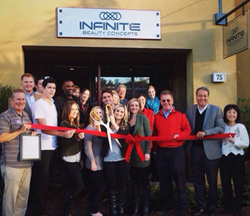 The goal is to offer a holistic approach to beauty.
ALISO VIEJO, Calif. (PRWEB) January 05, 2015
Infinite Beauty Concepts, Southern California's newest boutique spa, eyelash enhancement and skincare salon, welcomed Orange County leaders and business builders to its December 12 Aliso Viejo grand opening. Mayor Bill Phillips, Chamber of Commerce President Richard Fisher and a throng of community heavyweights turned out to support managing partner Brittani Hamilton by participating in a ribbon cutting ceremony and reception at the spa's 75 Vantis Drive location.
Local leaders including City Counsel members Mike Munzing, Dave Harrington, and Ross Chun and City Manager David Doyle were joined by State Rep. Bill Brough of the District 73 California Assembly and other Orange County luminaries gathered for photos and to tour the IBC facility, which includes two lash artistry stations, an esthetic procedure room, a makeup artistry station and a spray tan station and retail products.
Looking to grow the Infinite Beauty Concepts brand by offering innovative services, an aesthetics graduate program and franchise opportunities, Hamilton also unveiled the company's latest spa offering—a student card program with special pricing and discounts on spa services. The card program is the first in a series of student-friendly offerings she has planned for IBC; the 19-year-old entrepreneurial student at Saddleback College in Mission Viejo is committed to finding opportunities to support area high school and college students.
"I really want to put my leadership skills to work in a way that can benefit students," Hamilton says. "For instance, Infinite Beauty Concepts plans to sponsor the Aliso Niguel High School dance team in the annual Winter Showcase event, and we're already looking for other opportunities to be an important part of student life here."
Hamilton selected Aliso Viejo to launch her boutique spa because of the community's tightly knit network of small businesses, its short distance to the area's bustling hotel scene, accessibility to all major California freeways, and its penchant for promoting healthy, active lifestyles. She and her team of aesthetics experts offer a holistic approach to beauty that includes organic skin care services, customized facials, cosmetic/makeup artistry, eyelash extensions and enhancements.
IBC caters to a growing interest in eyelash extensions and enhancements for daily wear, weddings and special events, specializing in a wide range of eyelash enhancing products and procedures including tinting, perming and volume lash extensions using the highest quality lashes and premium, non-irritating and odorless glue.
Clients can also enjoy expert anti-aging treatments by skilled estheticians, safe organic sunless tanning products, full body waxing and a complete line of XO antioxidant "superfoods" including weight loss protein shakes and energy drinks. IBC also offers a variety of natural, therapeutic, medicinal and pharmaceutical grade skin care products.
For more information, visit the Infinite Beauty Concepts website at http://www.infinitebeautyconcepts.com, email infinitebeautyconcepts(at)outlook(dot)com, or call 949-800-5509.
About Infinite Beauty Concepts:
Infinite Beauty Concepts approaches skincare and healthcare holistically, from the alkaline water used to ensure pH balance in all skin treatments to the vegan and organic formula used in the boutique's specialized spray tan product. IBC also offers a wide variety of therapeutic skin care products, some organic and natural and some medicinal and pharmaceutical grade.
Founder and managing partner Brittani Hamilton initially established the company to meet the growing demand for high quality, specialized eyelash enhancements and extensions. Her vision grew to include anti-aging products and treatments, full body waxing and a full line of antioxidant superfoods for a clientele committed to living the healthy and active Infinite Lifestyle.
###