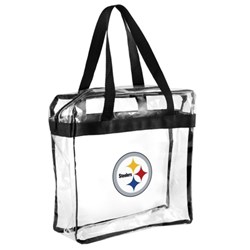 (PRWEB) September 11, 2013
Fans attending an NFL game this season will notice some changes as they head towards the stadium. No more fans carrying backpacks or purses—and if there are, they'll be turned away at the gates as part of the recently unveiled heightened security measures for the NFL.
Fans don't have to leave all their personal possessions in the car, however, provided they follow the new guidelines. Permitted bags in NFL stadiums will now include clear plastic, vinyl or PVC totes that do not exceed 12" x 12" x 6". Fans may also carry a 1 gallon re-sealable clear plastic storage bag (Ziploc or similar), or a small clutch not exceeding 4.5" x 6.5". Medically necessary bags will be permitted after an inspection. The security measures do not extend to parking lots, so tailgaters need not worry.
There can be little doubt that the new bag regulations make the stadiums safer, making it virtually impossible for destructive items to be sneaked in. An added upswing is that the clear bags will make security checks going into the stadium run much more smoothly. No more holding bags open while a baton sifts through possessions. Personal items may be on display, yes, but that also means it's a simple matter of holding up a clear bag while the metal detectors do their work. And, unlike with the TSA, fans attending games are also free to stow items in their pockets as they head to the stadium.
Hopefully, as people become used to the new security measures, the guidelines will incite less frustration. Fans can focus on getting through security quickly and efficiently to spend more time enjoying themselves watching their favorite NFL teams.
Source:
"NFL Teams to Enhance Public Safety and Improve Stadium Access for Fans" http://www.nfl.com/qs/allclear/index.jsp