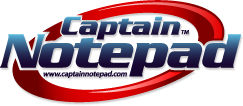 As one of our more popular promotional items, football schedule magnets are a great promotional gift for new or potential clients in your business
Englewood, CO (PRWEB) May 31, 2016
Captain Notepad (http://www.captainnotepad.com), a producer of image personalized calendars, custom notepads, magnetic notepads, and other promotional items, announced today the release of the 2016 football schedule magnets for clients to order today.
The highly popular magnetic calendar with sports schedules offer clients the opportunity to advertise their business. "As one of our more popular promotional items, football schedule magnets are a great promotional gift for new or potential clients in your business. Select one of your favorite NFL teams or order a variety of different teams to give your clients a personalized gift. You can combine your business logo and contact information for a lasting impression," notes Jace Rogat, President at Captain Notepad.
Captain Notepad offers the football schedule magnets in a unique notepad named Ultimate Mag-Pad. Businesses can take advantage of the normally blank backing on magnetic notepads and include their logo, business name, and sports schedule.
Select from a variety of styles including:
Printed football schedule in size 3.5" x 9"
Football shaped
Wallet sized cards
House shaped schedule (perfect for Real Estate Agents)
All magnetic calendars can be customized with a company's logo, color, and contact information. For more information on how to order custom football schedules along with customized notepads, contact Captain Notepad at info(at)captainnotepad(dot)com.
Captain Notepad is also excited to announce it's 38 new customized notepad sizes. "We are excited to once again expand our product list with more options for our clients," says Jace Rogat, President at Captain Notepad. He continues, "With our new digital printer we offer more options and can turnaround in as little as three days."
Choose from three different paper stocks for custom printed notepads, including 50#, 60#, and 70#. Turnaround time for these new notepads can be done in 8, 5, and 3 day production times. To learn more about Captain Notepad's new custom notepads, contact Captain Notepad at 1-888-268-7237.
About Captain Notepad
Captain Notepad is the leading manufacturer of customized notepads and promotional items specializing in creative solutions to help brand a company's product and grow their business. Through competitive prices and great customer service, Captain Notepad has become the best source for custom notepads. What sets Captain Notepad apart is the short production time including rush production on most of the custom printed notepads.