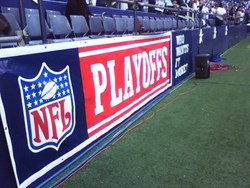 Washington, DC (PRWEB) December 30, 2013
The 2014 NFL Playoff Schedule has been released with both Wild Card and Divisional Matchups released, all leading up to Super Bowl XLVIII.
After a thrilling weekend of surprising wins and losses, the NFL is onto the next round of games as the AFC and NFC Wild Card teams compete for a spot in the Divisional Playoffs.
Each game being played down to the last minute, fans all across the nation were eagerly watching to see if their team would be the one to move on. However, there were also a majority of fans who didn't need to worry about the playoffs, as they already had a spot. This was the case for the supporters of the Seattle Seahawks, New England Patriots, Carolina Panthers, and Denver Broncos. With Week 18 of the NFL on the way, the teams prepare to take on their competitors to clinch a spot for the playoffs. On top of the playoffs only two weeks away, it brings us that much closer to the Super Bowl, each game getting more and more intense. Tickets are in high demand and selling out fast so secure yours when you can and get them at a discounted price through SuperStar Tickets.
Players and fans all anticipate the arrival of Super Bowl 48 to see which two teams will make it to the end. The Wild Card games will narrow down the choices before getting to the playoffs and then finally, the final two.
Wild Card Schedule:
Indianapolis Colts vs. Kansas City Chiefs, Saturday, January 4 at 4:35 EST
Philadelphia Eagles vs. New Orleans Saints, Saturday, January 4 at 8:10 EST
Cincinnati Bengals vs. San Diego Chargers, Sunday, January 5 at 1:05 EST
Green Bay Packers vs. San Francisco 49ers, Sunday, January 5 at 4:40 EST
Fans can buy and save on their NFL Playoff tickets today by using promo code NFL2014 at SuperStarTickets.com for a limited-time only to save an extra 7% off their order.