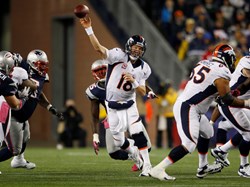 (PRWEB) October 03, 2013
After week 4, there are only a few teams standing in the undefeated category. The New England Patriots, the Denver Broncos, the New Orleans Saints, and the Seattle Seahawks have all won their first four games, but while some of these teams will play each other, it is a mystery as to who will be left standing with all wins.
How difficult will it be to find New Orleans Saints Tickets, New England Patriots Tickets, Denver Brocnos Tickets, and Seattle Seahawks Tickets?
The New Orleans Saints are one of the biggest surprises of the season so far. For a team that started last year at 0-4, they seem to be doing very well. Last season, the Saints coach Sean Peyton was suspended, and for this season, that suspension has been lifted. It's safe to say the fact that the Saints have a coach again probably affects their play.
The Patriots are at the top, once again. Shocking, right? Not too much of a surprise here, the New England Patriots are always a top team, and it may be a while before they get a number in the loss column. Although usually a great team, this is the first time the Patriots are 4-0 since 2007 when they went 16-0. The team still has to face another undefeated team, the Denver Broncos on November 24. Although by then, both teams will most likely not be without at least one loss.
The Denver Broncos are on an absolute roll this year. Questions have been asked if anyone can beat this team. On Sunday, the Broncos demolished the Eagles in a 52-20 win, and it is possible that they can beat scoring records this season. Although they have not been seriously tested yet, they will be. The Broncos still have to face the Colts, Patriots, and Texans this year.
The Seattle Seahawks: my oh my. Just behind the Broncos in this week's power rankings, the Seahawks have heads turning in 2013. The team's 4-0 start to the season is the first in franchise history, so they are going to make it count. In the team's first game, they stunned their rivals the 49ers in a 29-3 win. They have also beaten this year the Jaguars, and a league competitor the Houston Texans in an overtime thriller. Important up-coming games include ones against the Falcons, Saints, and the 49ers, again.
Fans that want to see any of these teams compete can purchase their tickets at Ticketmonster.com. Ticket Monster has the lowest prices on the web, and has an engaging fan website. Fans can also post their thoughts about the league on Ticket Monster's social media sites, and talk with other fans. Which of these teams will stay at the top? And which will fall? Find out at Ticket Monster, Inc.