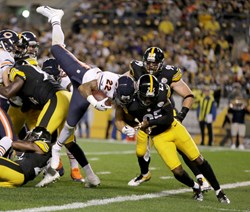 (PRWEB) October 05, 2013
Obviously, going to any NFL game is not going to be an inexpensive outing. Or is it?
Actually, the fact of the matter is that you can go see an NFL game without spending every dollar in your pocket.
There are many aspects to saving money at a game. That ranges from where you buy your tickets, to what you purchase at the stadium during the game. Ticketmonster.com is one of the best spots on the web to grab a ticket. The following are some tips on how to save money, and still enjoy the game.
So, on to the good part. How to save money when going to an NFL game:
1. First, use secondary ticket market websites, like Ticketmonster.com. Sites like Ticket Monster offer the lowest prices for tickets on the web. Additionally, Ticket Monster does not charge ridiculous service fees like other sites do, so you get more for your money.
2. Buy season tickets. Not all teams only offer season tickets for a crazy amount, and not all, like the Giants, are impossible to get. Many teams have waiting lists that you can be put on, but call and ask around. If the due diligence is done, tickets can be purchased. Fans can also get together and share season tickets, cutting the price in half and making them much more affordable.
3. Once you get a ticket to a game, eat before hand! Stadium costs for food and drinks are through the roof. If you still want to enjoy yourself and have a good time, eat a nice meal before the game, then while there grab a beer or two. If allowed, which some stadiums do, bring a water bottle. Keep in mind, $9 beers and $5 waters add up fast.
4. Parking. Ah yes, everyone's favorite money spending topic. The fees charged at stadium for parking are out of control. Buying parking passes on sites like Ticketmonster.com can definitely help. While you are on the site grabbing your NFL ticket, pick up a parking pass too. Remember, no extra fees.
5. Lastly, always remember, if there's a will, there's way.
Pricing in week 5: For the upcoming week, the most exciting and anticipated game is the New Orleans Saints vs. the Chicago Bears. Tickets to this awesome game will start at $252, but it will be well worth it. The Saints are 4-0, and the Bears are 3-1. Will the Saints remain undefeated? Or will the Bears snap that winning streak?
Other thrilling games for the weekend are the Ravens at Dolphins, the Patriots at Bengals, or the East coast rivalry of the Eagles at Giants. Prices to these games range from around $28-$107 per ticket, and Ticketmonster.com has a ton for sale! Stop by http://www.Ticketmonster.com today.