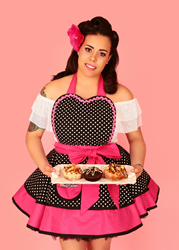 Talk Donut To Me
Front Royal, Virginia (PRWEB) May 30, 2014
While one community anticipates the flagship opening of one of the country's newest and most innovative donut chains, 16-yearr-old visionary and entrepreneur, Tiana Ramos is eagerly awaiting the reality of a dream. Tiana is not your average high school student, or typical person for that matter. While many people spend their entire lives wishing and fantasizing this 11th Grader not only knew what she loved to do but put enough imagination, conceptualization, business development, negotiation and hard work into making what she was recently pinning on a "Dream Board" Into Reality.
You can go to her Facebook page at http://www.facebook.com/ngdonutshop.
Grand Opening
Natalie and Tiana Ramos are putting the "Grand" back into Grand Opening. Naughty Girls Donut Shop will debut at 20 Riverton Commons in Front Royal on Saturday, June 28. Doors will swing open at 8 a.m. Breakfast is served.
Naughty Girls Donut offerings are sweet and gooey, with flavors that surprise and delight. Breakfast options include a variety of Donut Palm Panini Sandwiches, and lunch customers can choose between Fried Chicken and Lunch Palm Panini Sandwiches or savory chicken served with honey pecan glaze. All entrees come with donuts on the side. Of course.
Sweet is swell, but quality counts. Naughty Girls Donuts makes scratch-made donuts every day. Offering an array of gourmet flavors made from fresh, local ingredients, visitors can choose between the Grable Collection (classic cake donuts with a flavorful twist); the Monroe Collection (yeast donuts with unique combinations of toppings); and the Page Collection (yeast donuts with over-the-top fillings). Customers can also personalize their donuts, by ordering hot donuts and adding their own choice of toppings.
Drinks and unique flavored coffees like "bacon coffee"are on the menu as well. And in an epic brainstorm, Natalie and Tiana came up with the idea of Drunkin Donuts -- for those over 21.
Grand Opening Events
A car show sponsored by Poor Boys National Car Shows and featuring more than 50 gorgeous period vehicles will add a little festive splash to the opening celebration. Dave Jenkins of Poor Boys said, "To enter the show, all you have to do is buy a dozen donuts from Naughty Girls. A professional photographer will be available to snap pictures of you and your car, alongside a Naughty Girls pin up girl. It will be a fun day."
Make-overs, henna tattoos and a booth with Naughty Girl items will help attendees get into the Naughty Girls spirit. For those with little ones, a Moon Bounce will offer a happy distraction, and police will provide child protection IDs.
About Naughty Girls
The Naughty Girls Donut Shop combines two of Natalie Ramos' favorite ideas -- decadent and delicious food and a fun and flirty atmosphere. She and her daughter Tiana had been fine tuning the concept for two years when the business opportunity presented itself. Naughty Girls' time had come. "Once we decided to go for it," Natalie said, "everything came together so quickly. I realized that we had been considering it for so long, we had already made most of the decisions."
Natalie and Tiana share an unreasonable affection for the glamorous pin-up girls of the 1940s. The restaurant look and feel, and the carefully designed wait staff uniforms fit in with the theme. Each outfit is slightly different, and each captures the mood of the shop. Bright reds and pinks abound at every turn; the look is clean and cheerful, with a hint of wholesome naughtiness. While posters of Marilyn Monroe, Betty Grable and Bettie Page tempt customers with their come-hither smiles, the donuts also beckon -- a sweet indulgence we know we should resist, but choose not to.
Behind the Scenes
Any visitor to Naughty Girls Donut Shop will be able to see at a glance the mood of the shop and the food on display. But it's what's behind the scenes that makes Naughty Girls such a unique endeavor. Naughty Girls is a family business. Mom and Pop are key in running the business, but 16-year-old Tiana is the visionary.
A high school junior, Tiana was the impetus for moving Naughty Girls from concept to fruition. She confessed to her parents her desire to be a pastry chef, and it was the push her parents needed to make their dream a reality. Tiana created recipes for all the donuts, sandwiches and chicken dishes, designed the menu and the merchandise items for Naughty Girls. She will work at the shop as she finishes up high school, when she'll attend a culinary institute before returning to the shop to take on more responsibilities.
As soon as the last bell rings at Tiana's high school in June, she will commit to working full-time at Naughty Girls through the summer. That includes a 2 a.m. wake-up call so that fresh donuts will be ready to beckon customers when the shop opens each morning.
When Natalie asked her daughter how she was going to handle the responsibilities – and pressures -- of running a business, Tiana replied, "Mom, this is what I've always wanted. I'll do whatever it takes."
Natalie is a graduate of the prestigious culinary school at Johnson & Wales University. She has worked in various restaurants, including the Hard Rock Café, Reese Organizations and the Hyatt Regency. She has also worked in numerous corporate settings for Unidine, Sodexo Corporation and the Compass Group, as the director of Food and Nutrition. Natalie is the creative genius behind Naughty Girls, conceiving and executing the delicious menu, shop decor, and running day-to-day operations.
Miguel worked for 20 years in marketing in the food industry before signing on with the U.S. National Guard and joining Amazon as a member of the management team. Miguel handles the business side of Naughty Girls.
Because Tiana is such a key motivation for Naughty Girls, she and her mom are making sure the shop has some staying power. Natalie said, "We are designing our management structure so that all of our employees feel they are a key part of Naughty Girls' success. They will be paid well, and be financially vested in our success. As we open more stores in other locations, staff from our Front Royal shop will be chosen to lead other locations. We want this to be a place that's fun to work, but that offers employees a future with us if they want it, and are willing to work for it."
Naughty Girls has a room set aside as a "dressing room" for the wait staff to dress and prepare for their shifts. The unique, specially designed uniforms stay on site and are laundered there. Natalie said, "Our employees know that we respect them and appreciate the great job that they do. They are the core of our business. We couldn't succeed without them."
Community Mindset
Natalie and Tiana know that they need to attract customers, and keep them coming back. Their natural inclination to include the community in their plans fits into this strategy. Natalie and Tiana offer discounts for senior citizens ("My mom made me," Natalie says.); U.S. Armed Servicemen and women; students; and for those who shop at other local businesses. Daily specials offer more chances to save on an already competitively priced menu.
Natalie and Tiana believe in supporting local farmers, and uses nearby businesses as much as possible when purchasing necessaries for the shop.