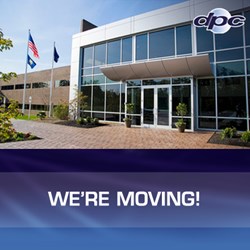 To accommodate our recent growth, we're doubling our office size and relocating to a more conveniently accessible space.
Exeter, NH (PRWEB) September 30, 2013
New Hampshire based tech staffing firm Digital Prospectors Corp (DPC) will be relocating their corporate headquarters to 100 Domain Drive in Exeter, NH. The move to the Stratham Industrial Park will increase the size of DPC's home-base to more than 5,000 square feet in an effort to better serve the staffing firm's local customer base.
Due to their ongoing growth, (as evidenced by their inclusion in the Inc. 5000 list of the "fastest growing companies in America" for the seventh consecutive year) DPC recognized the need to relocate to a space that could accommodate an ever-expanding number of employees.
"The move to 100 Domain Drive signifies a major step for DPC," says Jessica Catino, President at Digital Prospectors Corp. "To accommodate our recent growth, we're doubling our office size and relocating to a more conveniently accessible space."
Situated on 33 acres of land just one mile from I-95, 100 Domain Drive at the Stratham Industrial Park is convenient to Boston, MA; Portsmouth, NH; and Portland, ME. This central location is important for DPC's New England focused client base.
"New England is a hotbed for companies in many different industries," Catino told Seacoast Online. "We have new clients in the commercial sector and some of our larger government clients. And we are here."

The IT staffing firm will be occupying the new space in early November and will begin hiring immediately. Fifteen new positions are opening at DPC, which is a two-time "Best Place to Work in NH" award-winner. New hires will include technical recruiters, account managers and administrative staff.
DPC plans to hire and train recent college graduates for the technical recruiter and administrative roles; and is seeking experienced, college-educated sales people for the account manager roles.
About DPC
DPC has a reputation for success in recruiting and placing IT professionals and engineers in rewarding careers in industries like robotics, government defense, healthcare, insurance, telecommunications and more. DPC's primary technical focus areas are in web development, embedded engineering, health information systems (HIS) and cloud computing.
Since DPC's founding in 1999, the firm has been recognized as a "Best Company to Work For" by Business NH magazine, a "Top IT Services Company" by Inc. Magazine, a "Most Reliable Staffing Agency" in Forbes Magazine, a "Top Ranked Staffing Firm" and "Fastest Growing Staffing Firm" by Staffing Industry Analysts. Please visit http://www.dpcit.com to learn more.
Media Contact: Jessica Catino, President, 603.772.2700 x 205 or jcatino(at)dpcit(dot)com